Medical clinic delivers flu shots, combats stigma around vaccinations
As flu season looms, the Marquette medical clinic kicked into full gear to meet the demand for vaccinations.
Despite an overall increase in the number of vaccines administered, the clinic is still working to combat stigma and misconceptions surrounding both the flu virus and shot.
The clinic gave around 1,400 shots by the end of September, an increase of nearly 10 percent from last year. Lynda Connor, a medical clinic nurse and coordinator of the flu clinic, credits this increase to the fact that Marquette is now giving out the vaccines, rather than an outside agency.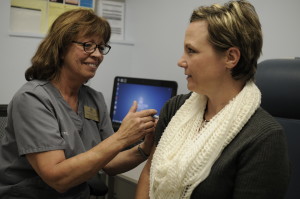 "One of my goals was to get the outside agency off campus and have our medical clinic administer the flu shots," she said.
As a result, the clinic is increasingly busy this time of year, as it is open to students and faculty, in addition to the general public.
The clinic is advantageous to patients and professionals alike. Nursing students can even administer the shots on a volunteer basis to gain valuable clinical experience.
"The first few times I administered the injections, I was really focused on the actual administration and didn't really converse with the patient," Chrystal Mattappillil, a junior in the College of Nursing, said. "After a few of them, I realized that conversing with the patient puts them at ease and makes their experience a bit easier because they are distracted and won't typically focus on the needle that's being placed into their deltoid."
Luckily for the Marquette community, the national vaccine shortages that have people struggling to meet the demand will not affect the campus flu clinic. The FDA rejected some lots of the vaccine from manufacturers, but Marquette's were approved. The struggle now lies in finding people to administer the shots to.
The staff is also trying to dispel the stigma associated with vaccines, such as the misconception that thimerosal (a preservative) is linked to autism, and the belief that vaccines cause the flu. It is common for people to believe that they are sick because of the vaccine, while in reality, they fell ill before the shot could take effect.
"The vaccine takes two weeks for people to get the full effect," Connor said. "It's a dead virus."
The clinic uses raffles and support from local businesses (such as food platters and free items) to encourage people to get their shot. This year's raffle prize is a Kindle Fire.
Connor explained that it is impossible to get everyone vaccinated. However, the medical professionals of the clinic are hoping for "herd immunity," the theory that if enough people are vaccinated, they can create a buffer for the community to keep a disease out.
Nevertheless, everyone would get vaccinated against the flu in Connor's ideal world. She and others in the clinic continue to combat beliefs instilled by misinformation and ignorance.
"You put so many people at risk by not getting the vaccine," she said. "It is just so important."
Leave a Comment