The Rev. James Martin announced as commencement speaker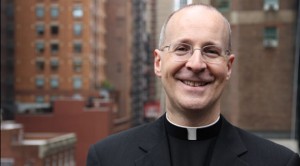 The Rev. James Martin, the official chaplain of "The Colbert Report," will speak at Marquette's commencement May 18, according to a university news release Wednesday.
Martin is a award-winning author and the editor-at-large of America, the national Catholic magazine. Three of his books are New York Times bestsellers. "Jesus: A Pilgrimage," Martin's most recent book released this month, explores the human emotions and divine activities of the life of Jesus.
Martin frequently comments on religion and spirituality for national and international media. In addition to traditional news outlets, he has appeared on Comedy Central's "The Colbert Report" and Fox News Channel's "The O'Reilly Factor." During his third of six appearances on "The Colbert Report," host Stephen Colbert stopped introducing Martin as a just friend of the show, but rather as "The Colbert Report's official chaplain."
"One year after that the first Jesuit was named pope, I'm thrilled to announce a fellow Jesuit as Marquette's commencement speaker," Interim University President the Rev. Robert A. Wild said in the news release. "From his best-selling books to his active engagement in social media, Father Martin has helped articulate the values and mission of Jesuits and Catholics across the globe, and I can't wait to welcome him on campus."
Martin entered the Society of Jesus in 1988 after working for six years in corporate finance after graduating from the University of Pennsylvania with a bachelor's degree in finance. Following his entry into the priesthood, Martin received master's degrees in divinity and theology. As part of the spring graduation ceremony, Martin will receive an honorary doctor of letters degree from Marquette.
He has received many prestigious awarding including the Ignatian Volunteer Corps's Madonna della Strada Award, the Loyola Institute of Spirituality's Writers' Award, and the Religion Communication Association's Scholar of the Year Award.
Colleges and universities across the country have asked Martin to speak on their campuses, as well as Catholic dioceses and archdioceses. Martin also addressed youth at World Youth Day in Rio de Janeiro in 2013.
Last year comedian Bill Cosby spoke at the Marquette's spring commencement and in 2012, the Baseball Hall of Fame's Hank Aaron spoke at the ceremony.