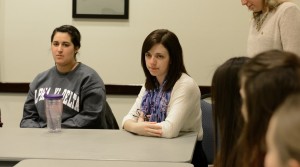 Three national sororities and four national fraternities were chosen by Marquette Panhellenic Association and Interfraternity Council Monday night following decisions in October to open Marquette for Greek life extension and expansion.
Of the 12 national sororities who submitted applications, Marquette's Panhellenic Association narrowed the chapter candidates to Alpha Gamma Delta, Gamma Phi Beta and Kappa Delta. Fourteen national fraternities submitted applications to IFC, which chose Pi Kappa Phi, Delta Tau Delta, Phi Kappa Psi and Delta Epsilon.
The four potential fraternities will come to campus March 25-28, while the three sororities will visit during the second week of April. All seven chapters will give presentations to the Marquette community and after both the IFC and Panhellenic Association will vote on which chapter to add after these visits. MUSG will also be involved in the process, though the university will ultimately approve or deny the selections.
IFC originally planned to invite three fraternities to campus, but one of the applicants recently changed their leadership and organization structures.
"We wanted to invite them to campus to see a live presentation to see what this organizational redefinition looks like," said Jason Kurtyka, one of the members of the interest group who brought the idea of expansion to IFC last spring.
The new fraternity will ideally be recognized beginning next fall. Mary Maruggi, a member of the Panhellenic Extension Committee, said Panhellenic hopes the new sorority will individually recruit after formal sorority recruitment in January.
Expansion and extension take place following an increase in Greek involvement on campus. Between the spring of 2008 and spring of 2012, there was a 25.8 percent increase in total sorority members while fraternities saw an 18.8 percent increase in membership. The number of members in sororities is almost double that of members in fraternities, according to Marquette University Greek reports.
The committees looked at several factors when considering applications, including local alumni involvement and whether the group had an active national organization. The committees also asked the interested organizations about how they see their organization meshing with the Jesuit mission.
IFC's expansion interest began last spring when a group presented the idea of bringing a new fraternity to campus. That group is comprised of Kurtyka, a junior in the College of Arts & Sciences; Thomas Schick, a junior in the College of Arts & Sciences; and Matthew Walker, a sophomore in the College of Arts & Sciences.
Panhellenic Association was not approached by interest groups and chose extension after an exploratory committee gathered statistics and realized the needs of the community recommended growth at Marquette.
The impact of the additional chapters is unknown, but both Maruggi and Kurtyka predict an increase in participation.
"Most campuses that do extend see an increase in Greek participation, but it's unknown if this will increase Greek life participation in general or just specifically for the new chapter," Maruggi said.
The last sorority extension, Sigma Kappa, took place in 2007 while the last fraternal expansion, Omega Delta, happened in 2010, said Corey Lansing, assistant dean for student involvement.