Despite an evening of rain and storms Friday Sept. 16, Marquette's Sigma Lambda Beta fraternity didn't let that stop the celebrations of Fiesta de Noche. They had a celebration full of food, music and cultural performances. 
Hispanic Heritage Month began Sept. 15, and is a month dedicated to recognizing and honoring the impact Latine and Hispanic cultures have on the United States.
With Sigma Lambda Beta being the largest Latino fraternity across the country, there were many in attendance who are a part of the fraternity from neighboring colleges or alumni of the fraternity.
Nestor Ruelas, a sophomore in the College of Communications, is the internal vice president of Sigma Lambda Beta fraternity and said they have been planning Fiesta de Noche since last summer.
"It is a lot of work for this big of an event. We worked with the Center of Engagement and Inclusion and diversity programs to make sure we were able to get the dates, space and making sure the food was available. We also had to make sure we were able to get the mechanical bull and make sure that was available," Ruelas said.
The weather impacted the event and the atmosphere they had planned for, Ruelas said
"We didn't get to use the mechanical bull and the vibe of the lights and showcasing different performances was impacted. It was supposed to be on a higher stage rather than just in a circle," Ruelas said.
Jack Chen, a student at the University of Wisconsin-Milwaukee, made an appearance at Fiesta de Noche to support friends who are part of Sigma Lambda Beta.
"I came out last year as a way to support my friends who are currently apart of the Betas along with some other friends who are now alumni," Chen said. "And of course, I couldn't miss the food and music."
Lines wrapped around the first level of the Alumni Memorial Union with attendees eager to try food that was catered from Pete's Fruit Market.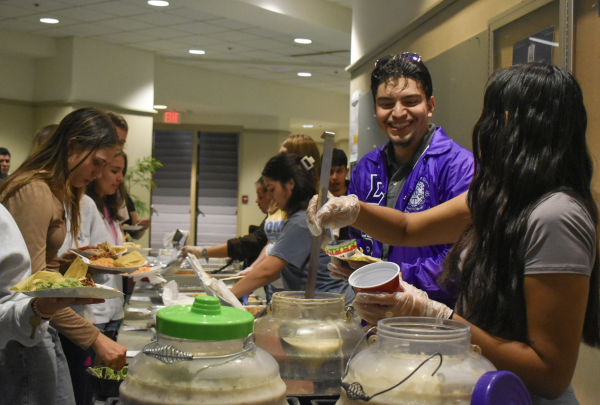 "Easily the first thing I did was hop in line for some food. The line has definitely grown since the time we got here, but it's nice to just relax with good food and talk to friends who we have not seen in a while, in addition to meeting new people," Chen said.
With the live DJ blasting hit songs from artists like Bad Bunny and many others, it was a celebration that brought everyone together.
Brandy Macias, a sophomore in the College of Health Sciences, attended Fiesta de Noche for the first time this year.
"I was inspired to come out because I wanted to be a part of a celebration which was honoring my Latina roots. Not only was it a way of getting together with other Latinos in the area, but the celebration reminded me of home. We always celebrate Mexico's Independence Day and now at Marquette I am still able to celebrate it with new friends," Macias said.
Carolina Tapia, a sophomore in the College of Arts & Sciences, saw this event as an opportunity to connect with others and support her community.
"I came out tonight as a way to celebrate National Heritage Month and spend time with friends who I now consider family. I attended last year's celebration and now I'm here, so I think this is definitely going to be a tradition for myself," Tapia said.
Although this event was run by students, that did not stop staff members from stopping by for some food and fun. Jocelyn Salazar, an administrative assistant in the College of Communication, was not only a part of a multi-cultural Greek group in college, but she is also related to a Sigma Lambda Beta.
"I'm just really glad that there are these events on campus, as far as I've been working here, I have noticed how community orientated Marquette is and it's something I really admire and love. Not to mention it is so nice how students have a place where they can come together to support one another, socialize and have a good time," Salazar said.
This story was written by Lauren Puthoff. She can be reached at [email protected].