Volleyball heads to BIG EAST Championship Final for second consecutive season
Less than one week after sweeping St. John's in Milwaukee, the No. 16 Marquette Golden Eagles downed the Red Storm for the second straight time Friday during the BIG EAST Tournament Semifinals. The Golden Eagles finished off the Red Storm in four sets (16-25, 25-23, 25-16, 25-19).
Much of the first set had both teams trading points until St. John's took a commanding 13-7 lead. Though Marquette attempted to fight back and even won a challenged play, the Golden Eagles were unsuccessful in their comeback. The Red Storm hit their best of the afternoon at 0.429 and handily took the first set 25-16.
Marquette's struggles continued in the second set as they were down five points early. Head coach Ryan Theis called for a timeout at 11-6 and following that the Golden Eagles went on a 7-0 run. A service ace for senior Anna Haak gave some momentum back to Marquette and the Golden Eagles edged out a 25-23 second set victory only hitting at a 0.220.
The third frame showcased an astronomically different Marquette team as they got out to an early 10-3 lead. The Golden Eagles hit a combined 0.353, their second best of the afternoon, and limited St. John's to only a mere 0.081. Marquette triumphed 25-16 in the third.
Down two sets to one, the Red Storm desperately tried to stay in the match. However, their efforts were rejected as Marquette jumped out to a seven point lead with 12-5. The Golden Eagles maintained that advantage for the whole set to eventually finish out the match 25-19, hitting their best of 0.375 with four service aces.
St. John's is only the second BIG EAST team — the first being Creighton — to win a set off Marquette.
Junior Allie Barber led the Golden Eagles with a match-high 23 kills and sophomore Hope Werch had a double-double with 11 kills and 10 digs. Haak had four of Marquette's seven service aces, posted eight kills and contributed 15 digs. Junior Lauren Speckman notched a team-high 25 assists.
Freshman Efrosini Alexakou was the only Red Storm player to record a double-double with 19 kills and 11 digs and three of St. John's six service aces. Junior Erika Di Maulo had a match-high 45 assists, and fellow junior Amanda Sanabia had a match-high 29 digs.
The No. 2-seeded Golden Eagles (26-5, 15-2 BIG EAST) takes on the top-seeded Creighton Bluejays Saturday for the BIG EAST Championship Final. The game is slated for 4 p.m. Central time.
This will be the third time Marquette and Creighton have met in the 2018-'19 season. The Golden Eagles have lost both previous matches against the Bluejays.
About the Contributor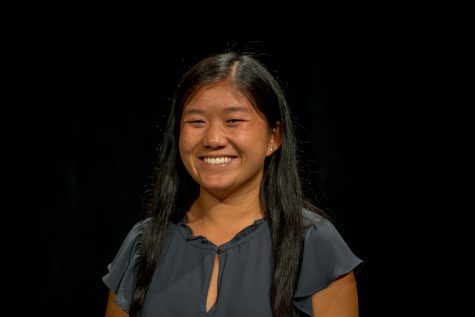 Zoe Comerford, Executive Sports Editor
Zoe Comerford is the Executive Sports Editor for the Marquette Wire. She is a senior from Naperville, Illinois, majoring in Journalism and Digital Media...