Easy Fix
As a college student, cooking on your own is a tedious and daunting task. I set out to make a meal from Blue Apron, a meal service company that sends boxes based on your dietary preferences each box contains pre-measured ingredients to make a home-cooked meal, customizable based on family size and taste.
I customized my order with vegetarian options; I was happy to do so because often times vegetarianism is overlooked in subscription services similar to Blue Apron.
I made black bean enchiladas using a step-by-step recipe accompanied by photographs. Blue Apron sent every single thing I would need for the meal other than cooking utensils, salt and pepper. There's really nothing more I could want.
As I started cooking, I was surprised at how easy it actually was, especially since I've neither made nor eaten an enchilada. First, I had to get the rice started. Once it was cooked, I added the rice, a cup of water and some of the pre-packed spice mix to a pot and left it on the stovetop to cook. While prepping the other ingredients, I could immediately smell the delicious scents coming from the spice mixture which were  sure to give the rice a zesty flavor.
Next, I chopped the zucchini and green onions. Both came in their own individual bags and were the perfect amount for the four enchiladas.
Once the rice was done, I took it off of the stove and poured it into a mixing bowl. This is when things really started to come together.
My cooking skills were really put to the test while I made the sauce to top off this delicacy. It turns out, no part of this recipe was difficult to make, even the sauce. At this point, I could not wait to try the final product.
On the stove, I started by heating up half of the green onions. Once they heated, I added the container of sour cream, chili paste, half a cup of water and tomato paste. I stirred until the mixture was a wonderful red color – sure to create a flavorful dish.
I removed the sauce from the stove and got started on making my first enchiladas. I added half the rice mixture to the bottom of the baking dish and saved the other half to fill the tortillas.
Like I said, I am not an enchilada expert. I carefully scooped the rice mixture into each tortilla as fast I could before the filling fell out. Once all four tortillas were in the pan, I gingerly placed the sauce across the top. Not going to lie, I felt like a real chef.
The final step was adding the cheese, because let's be honest, no good dish is really complete without a little shredded cheese. Being a college student, I did not have a cheese grater, but that was easily solved by slicing the mini block of cheese into tiny bits. The cheese was sprinkled on top, along with the other half of the green onions. I threw the baking dish in the oven, anxiously waiting until the I could dig in.
It was only in the oven for nine minutes, but when you're hungry, nine minutes might as well be nine hours. Finally, my timer went off. I grabbed my enchiladas ready to chow down. The smell was amazing and lingered throughout the whole cooking process.
When I took my first bite, I was in awe. There were many wonderful and distinct flavors. The sauce added just the right amount of heat without being too spicy. This recipe turned zucchini – which I find to be a bland vegetable – into something I deemed worthy of serving to my mom. You know something is good when it compares to a home-cooked meal.
The cooking process was not only super easy, but quick as well. The entire meal was done in less than 30 minutes. Depending on your cooking abilities, it would definitely be feasible to make this particular meal in about 20 minutes. It is seriously foolproof.
As a college student, a meal that is advertised as feeding two could easily be dinner for three nights, depending on your appetite. The box comes with three separate meals at two servings each, so this could be a great way to secure lunch and dinner for an entire week. In addition, the meals could be prepped on the weekend for those with busy schedules.
Plus, additions or substitutions can easily be made. If you don't have all the utensils, that is alright, as demonstrated in my cheese-shredding debacle.
The box cost $60, which at first may seem like a lot, but if you figure it as $60 for a week's worth of meals, it really is very affordable. The website allows you to cater any dietary restriction. Overall, this was a great experience. I would definitely invest in Blue Apron as a source for meals during a busy week.
Leave a Comment
About the Contributor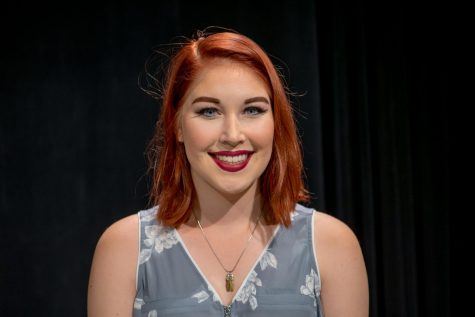 Kendra Bell
Kendra Bell is a copy editor and former entertainment producer for the Marquette Wire. She is a senior from Cary, Illinois, majoring in digital media....