Breaking ground for AHPRC
Hang on for a minute...we're trying to find some more stories you might like.
Marquette broke ground for the Athletic and Human Performance Research Center March 6.
The 46 thousand square-foot, $24 million project is located on the southwest corner of N. 12th and W. Wells Streets. It will house multiple athletic teams' locker rooms including the golf team and men's and women's lacrosse.
The center will be home to a strength and conditioning space as well as bio-engineering research projects with local collaborators.
Board chairman Owen Sullivan lead featured speakers at the event, including University President Michael Lovell.
Sullivan compared the groundbreaking to the construction of the Al McGuire Center and took time to reflect on how the university has changed since then.
"(The center) is an indication of the evolution of Marquette University, our athletic program and the entire mindset of the university as we think about a collaborative facility to meet not only the athletic needs of the university, but research and innovation," Sullivan said.
Lovell mentioned the various obstacles the project faced, including a change in location and delays due to community parking concerns, and he talked about what the project means to the university.
"This project is a symbol of the future of Marquette University and the way we're going to do things," Lovell said.
Rev. Nicky Santos, S.J., said a blessing over the project before construction officially starts. Construction is set to begin next week, and the project is estimated to be completed in the Spring of 2019.
Jeanne Hossenlopp, vice president for research and innovation, and Bill Scholl, director of athletics, spoke about the future collaboration between their departments and what it means for community members.
"The impact this building will have on our athletics program is truly phenomenal," Scholl said.
The AHPRC will house research that seeks to improve athletic performance, to learn about fitness of people of all ages and to explore rehabilitation options for athletes with disabilities.
"We're also really excited about the opportunity to collaborate, to create new fitness technologies and to advance the use of fitness and health data analytics to improve performance — both athletic and human," Hossenlopp said.
Grace Gabriel, a junior in the College of Business Administration and member of the women's lacrosse team, also spoke to the crowd. Gabriel said she represented student athletes in expressing her excitement over the addition of locker rooms, which the lacrosse and golf teams did not previously have.
"There are no locker rooms for us to call our own. No place to gather before or after practice, no place to create crucial bonds or to share goofy moments," Gabriel said. "We haul our gear between classes, conditioning and practice because there is nowhere for us to keep it."

About the Photographer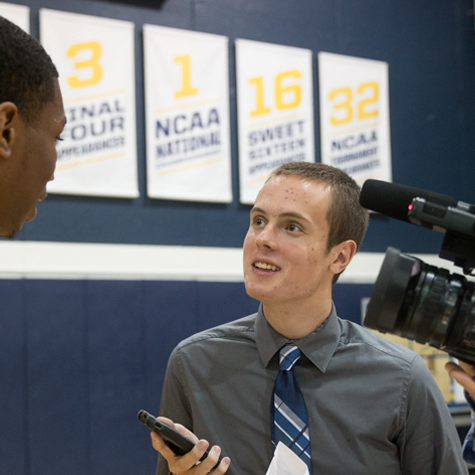 John Steppe, Executive Sports Editor
John Steppe is the executive sports editor for the Marquette Wire. He is a junior majoring in journalism and double-minoring in digital media and Spanish....