Riot Fest Day 2 Recap
Another day has come and gone for Riot Fest, and so has another lineup of incredible artists. The second day of Riot Fest showcased pop punk favorites Motion City Soundtrack and Brand New as well as indie superstars Death Cab For Cutie. How well did each of these bands use the hour and fifteen minute set that they were given? Here are our thoughts:
Motion City Soundtrack: It was a bittersweet set for Motion City Soundtrack, as it was their second-to-last show ever. As they played their fan favorites, like "Everything is Alright" and "Last Night", the crowd joined in unison to passionately sing the lyrics together.  Justin Pierre continuously thanked the fans for their support and followed by saying, "there's a lot of emotions up here,".  The band closed with "The Future Freaks Me Out", as the booming crowd of fans sang it back to the band for one of the last times ever.
Fitz and the Tantrums: Though they may not seem to fit into the Alt/Rock sound that Riot Fest is known for, Fitz and the Tantrums kept the energy up in their mid-day set with their catchy indie pop sounds. The lively co-lead vocalists, Michael Fitzpatrick and Noelle Scaggs, danced in-sync and eagerly skipped around the stage. They had an infectious rhythm that had the whole crowd dancing and singing along to their popular hits, including "Out of My League" and their newest single "HandClap".  Saxophonist James King had a couple of killer sax solos, which added a sense of soul to the set.  Their rejuvenating dance party of a set in the middle of the day gave the crowd the pump up and second wind needed to finish out day two.
Brand New: Brand New announced a few months ago that they would release one more album, and then their band would break up in 2018. As a result of this, there was a massive sea of dedicated fans lined up to see them as soon as the preceding act finished their set. Brand New took the stage at 7:15 and opened up with "Deja Extend" classics "Sic Transit Gloria…Glory Fades", "I Will Play My Game Beneath the Spin Light" and "I Believe You But My Tommy Gun Don't". They also played a few tracks from their album "Daisy" as well as the song "Mixtape," which has a line paying tribute to that nights headliner Morrisey. Brand New has always been known for being a rowdy punk band, and this show was no different. Crowd surfers and mosh pits were plentiful, and the energy was at an all time high.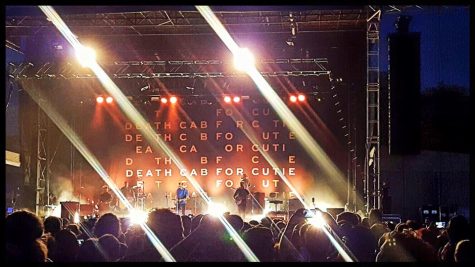 Death Cab for Cutie: Despite Death Cab for Cutie's almost 20 year (and counting) long run as a band and the mellow tone of their music, their set Saturday night was filled with the same energy, if not more, as most of their younger counterparts of heavier genres.  Their set covered songs from their entire history, with classics like "I Will Possess Your Heart", "Crooked Teeth", and "Soul Meets Body".  About halfway through, Ben Gibbard was left alone on stage with an acoustic guitar and belted everyone's favorite indie love song, "I Will Follow You into The Dark".  They closed their melodious set with "Marching Bands of Manhattan", leaving everyone in attendance in much happier state of mind.
Nas: "Hip-hop is dead!' boomed an unseen voice before Nas took the Rise Stage at Riot Fest. "There is only one hope for us" said the voice again as fans cheered their approval. Not long after Nas appeared and resurrected hip-hop by launching into one of his hit songs entitled "Hate Me Now". It is an interesting song due to the fact that it contains samples from "Carmina Burana," which is a very popular song that has been in countless movies. As the night went on Nas began to spit his way through his popular album "Illmatic", which included the songs "The World is Yours" and "N.Y. State of Mind" to name a few. Nas made it clear during his set how much he loved to be in Chicago, and he often at times replaced cities in his songs with Chicago to please the crowd. Overall, Nas's energy and charisma was effective in pumping up the crowd, making the concert all the more enjoyable.
Riot Fest Day 2 was even more varied, even bigger and even angstier than the day before. Motion City Soundtrack and Brand New made sure of this, and we couldn't have been happier about it. This day showed just how varied Riot Fest could be, and how fun it can be when fans of indie and alternative music are in the same field as hardcore punk music to enjoy a good time with good music and good tunes.
Leave a Comment