Garrett, Jr.'s and-one puts MU's postseason hopes on life support
Henry Ellenson held to 11 points and six rebounds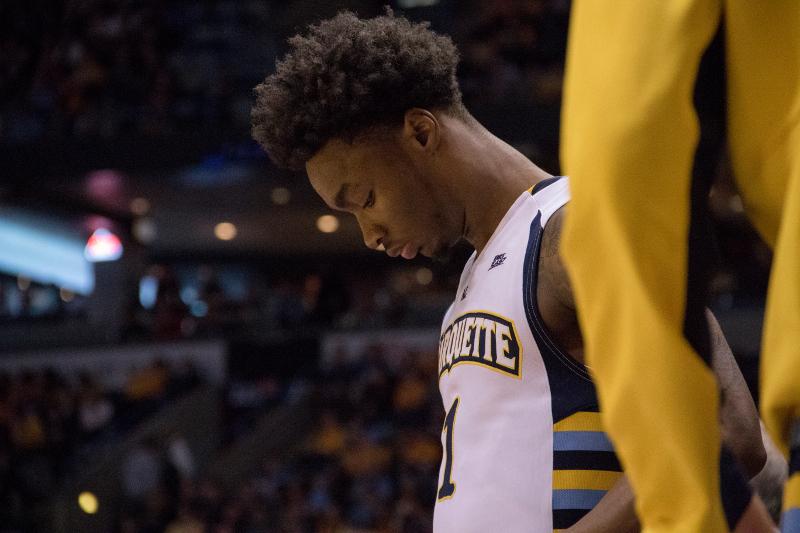 Well, that stung.
In a back-and-forth match between two teams fighting to stay relevant in the BIG EAST standings, DePaul (7-12, 1-6 BIG EAST) upended Marquette (12-7, 2-5 BIG EAST) and likely ended the Golden Eagles' NCAA tournament chances. Billy Garrett, Jr. converted an and-one layup with 1.1 seconds left in regulation to give the Blue Demons a 57-56 victory at the BMO Harris Bradley Center Wednesday night.
"It hurt," Marquette head coach Steve Wojciechowski said. "I thought we played harder tonight than we did in the Xavier game, we just weren't rewarded for it."
Squaring off against a team that entered 0-6 in BIG EAST play, Marquette held a one-point lead with 8.4 seconds remaining after redshirt sophomore Duane Wilson tipped in his own miss. DePaul head coach Dave Leitao called timeout and Wojciechowski subbed in 6-foot-4 freshman Sacar Anim in place of 6-foot-10 Henry Ellenson. Garrett, Jr. was still able to use his speed to get around the double team and drive into the lane for the foul.
"We wanted to get a lineup where we could switch ball screens," Wojciechowski said. "We knew they were going to go to Garrett and we wanted to try to double him in the backcourt and I thought a smaller, more athletic lineup would be able to do that."
The Golden Eagles' normally dominant size was virtually nonexistent throughout the game. Redshirt junior Luke Fischer picked up his second foul just two minutes, 21 seconds into the game and was forced to sit out the rest of the first half. Freshman Matt Heldt collected just one rebound in 13 minutes while the Blue Demons out-rebounded Marquette, 33 to 26. DePaul collected a whopping 16 offensive rebounds, compared to the Golden Eagles' six.
Henry Ellenson was contained to 11 points, six rebounds, four blocks and four turnovers for the game. His performance may be attributed to injuries to his shin and ankle, which Wojciechowski confirmed will not keep him out of game action.
"He's a little banged up, which is typical for this time of year, especially with as much contact as he plays against and has to play through," Wojciechowski said.
Both teams put on a porous offensive display in the first half. Marquette shot just 34.8 percent from the field, including 3-of-10 from three-point range. Not to be outdone, the Blue Demons shot 34.5 percent in the half, but 11 offensive rebounds created eight second chance points to propel them to a 26-22 halftime lead. The Golden Eagles scored one point in the final 6:38 of the half.
The offenses picked up marginally in the second half as Marquette kept up with DePaul's attacks in the paint. The Golden Eagles used a 6-0 run, capped by a Fischer turnaround jump shot, to take a 46-45 lead with 7:01 remaining, their first since it was 22-21 with 2:36 left in the first half. They would increase that lead to five thanks to six consecutive free throws – it was 52-47 with less than four minutes to play.
Marquette then turned the ball over five times in the final four minutes and allowed DePaul to tie the game at 54 with 1:24 remaining until Wilson's tip-in – two of his 19 points on 7-of-10 shooting, to go with four assists and no turnovers.
"Duane had a terrific game," Wojciechowski said. "I thought it was maybe his best game of the season. He took good shots and I thought he made good decisions."
Garrett Jr.'s ensuing game-winning free throw gave DePaul its first victory in Milwaukee since Feb. 16, 2000. He scored 14 points – all in the second half – while forward Myke Henry scored a team-high 17 points and grabbed 12 rebounds. The Blue Demons got their first conference victory since Feb. 3 of last year.
"DePaul's record, for what it is, they've been in every single game that they've played in, and we knew that going in," Fischer said. "We knew it was going to be a tough fight… We just gotta get over this hump."
The Golden Eagles are riding a three-game losing streak – the team's longest losing streak since a six-game skid between Feb. 10 to March 1 of last season – with the two easiest games remaining on the schedule coming this week. The team will travel to New York for a Saturday night matchup at Madison Square Garden against St. John's, which is 0-7 in the conference. Marquette will then return home Wednesday for a non-conference breather against 7-12 Stetson.