PREVIEW: Jump shooting in focus as Marquette enters BIG EAST Tournament play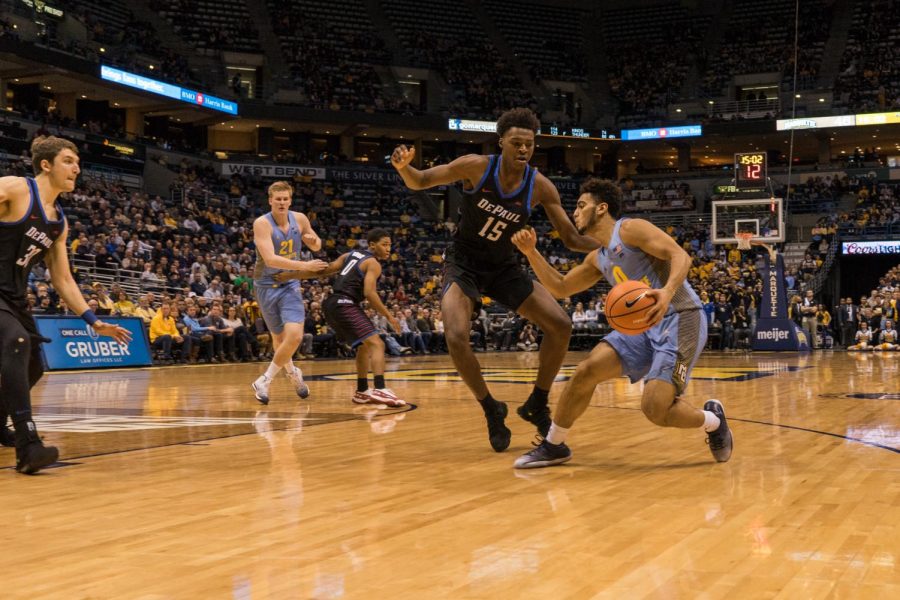 Conference tournaments in college basketball are a unique phenomenon. In no other major American sport can teams flip a four-month script in just four days. Marquette head coach Steve Wojciechowski embraced this opportunity ahead of his team's game against the DePaul Blue Demons Wednesday in the first round of the BIG EAST Tournament.
"We're excited about the BIG EAST Tournament," Wojo said. "Everybody starts again zero-and-zero."
While Marquette fans are no doubt aware of the team's precarious status on the NCAA Tournament bubble – BracketMatrix has the Golden Eagles as the second team out of March Madness – Wojo said he is solely focused on rebounding from Marquette's 70-62 loss to DePaul two weeks ago.
"Certainly, we have great respect for DePaul," Wojo said. "We played them recently and they outplayed us in every facet of the game. We know it's going to be an incredibly tough game."
The game starts at 8:30 p.m. Central time and can be viewed on FOX Sports 1.
LAUNCHING THREES 
Marquette's 10-of-12 shooting spree in the final 20 minutes of its recent win against Creighton is difficult to match. Many of those threes were also heavily defended, several feet behind the arc or both, allowing the Golden Eagles to come back from a double-digit deficit.
"Our guys hit some incredibly tough shots, and we have guys that are capable of doing that," Wojo said. "Not all the shots we hit were good shots; we were just fortunate they went in."
Marquette's 3-point shooting is so prolific that DePaul head coach Dave Leitao anticipates there to be several unstoppable shots.
"They're not going to go to a game and make two or three (3-pointers)," Leitao said. "You've got to understand that regardless of if the defense is air-tight or not, they're going to make some."
All-BIG EAST honorees sophomore Markus Howard and senior Andrew Rowsey have the third-most 3-pointers as a pair in the country with 198. Rowsey and sophomore Sam Hauser are fifth in the country with 190.
BALL MOVEMENT 
For Wojo, the way his team finds those 3-point opportunities is vital. While the Golden Eagles' assisted field goal percentage against the Bluejays (59.3 percent) was slightly higher than the team's season average (56.2 percent), Wojo said he would still like to see Marquette be more steady in that area.
"Now's the time where if you're inconsistent, it has drastic negative effects to a season," Wojo said.
Leitao is equally concerned with Marquette's ball movement. In DePaul's recent win over Marquette, the Blue Demons forced 15 turnovers and limited the Golden Eagles to only 12 assists. That was in stark contrast to DePaul's 70-52 January loss to Marquette, in which the Golden Eagles had 21 assists compared to 16 turnovers.
"If they get one pass ahead of the defense, they're inevitably going to get open threes," Leitao said about Marquette's offense.
Rowsey has been the most important player in Marquette's quest for better ball movement; the Golden Eagles are 6-0 when he dishes eight or more assists. He's also the only player that can serve as a true point guard when necessary; Rowsey averages 5.9 assists per 40 minutes while Howard, the next closest player, averages 3.6.
LOCKED-IN ROWSEY 
One personality trait defines Rowsey above all others in his coaches' eyes: confidence.
"Andrew's always been fearless; it's one of his great strengths." Wojo said.
That fearlessness was on full display against the Bluejays, when Rowsey pulled up for three from the Al McGuire decal roughly 25 feet from the hoop. He then followed it up on the next possession by making a trey with his right foot touching the Marquette logo.
It was a memorable senior night for Marquette basketball's only graduate, but he's not ready to call it quits just yet.
"I think Andrew's been really locked in here at the end," Wojo said. "A lot of times with seniors, when the finish line is in sight, the awareness that you're not going to get to do this much longer can help a guy raise his level."
While Leitao praised Rowsey during Monday's BIG EAST Coaches' Teleconference, he made sure to point out that Marquette had several players that shot well. Defending the entire court instead of merely a single player will be DePaul's focus against one of the hottest shooting teams in America.
"There's some ancillary things that become important. For us, it was limiting their fast break points, attention to detail on the backboards and our overall defensive spirit," Leitao said. "If you're good in those areas, you have a better chance at limiting some of those makes."