Golden Eagles survive DePaul, advance to BIG EAST quarterfinals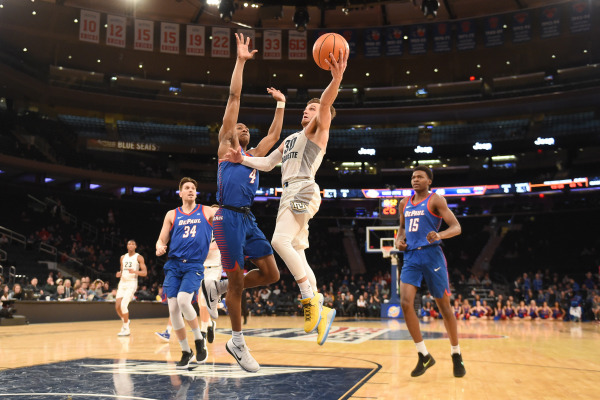 Marquette got away with one.
Up 70-69 with 12 seconds left, the Golden Eagles turned the ball over, giving the DePaul Blue Demons the final possession. Junior Max Strus, who scored 15 of DePaul's previous 17 points, was wide open beyond the arc and fired off a 3-pointer. It would have been a fitting end to Marquette's season: one final trey after an egregious defensive miscommunication.
It came up short.
The ball clanked off the rim and found its way into the arms of senior Andrew Rowsey, who got fouled and sunk two free throws to ice a 72-69 victory for Marquette (19-12) over the DePaul Blue Demons (11-20).
"We knew it was going to go to Strus," head coach Steve Wojciechowski said. "And we didn't actually execute how we wanted to play. But we were fortunate he missed and he doesn't often miss those types of shots."
Nothing about Marquette's victory over the Blue Demons was pretty. DePaul shot 26 free throws off 25 Marquette fouls and grabbed 41.7 percent of its missed shots. And relaxed defensive switching would've been more severely punished against almost any other conference foe.
Despite all that, Marquette found a way to keep its 13-year streak of BIG EAST quarterfinal appearances alive.
"A lot of things didn't go our way," said sophomore forward Sam Hauser, who finished with 16 points. "They were scoring, we were fouling and turning it over a little bit here and there … The moral of the story is that we overcame a lot of adversity."
In the first half, Marquette didn't look like any fortunate late-game breaks would be necessary. Rowsey scored 11 straight points from the 10:49 mark to the 8:29 mark, giving the Golden Eagles an early 23-12 lead.
That lead peaked at 14 and stayed in double digits for most of the ensuing 20 minutes, but the Blue Demons edged back into the game from the free throw line. Marquette received five fouls in a two-minute stretch of the second half, putting the Demons into the bonus with over 13 minutes remaining in the game.
Those foul calls spurred an 11-0 DePaul run to cut a 52-40 Golden Eagle lead down to 52-51. A driving layup from junior Eli Cain, who absorbed contact to get to the hoop, punctuated the run. Cain finished the night with 12 points and 10 assists.
Cain wasn't the only one with a double-double for DePaul. Senior center Marin Maric scored 22 points and grabbed 10 rebounds while forcing a plethora of foul calls on the perimeter.
"We knew that especially our perimeter players had some size advantage," DePaul head coach Dave Leitao said. "So if we can go downhill, you know, maybe we weren't going to face as much resistance. And I thought in the second half especially that we did a much better job of going downhill.
After both teams traded buckets for a few minutes, Strus took over. The junior forward had only scored seven points with 8:05 remaining in the game, but quickly changed that. First, he sank a free throw. Then he drove to the hoop for an and-one layup. On the next possession, Strus swished a 3-pointer. By the time Strus flushed down a dunk with 5:45 left, he'd brought DePaul back from a six-point deficit to tie the game at 61.
Rowsey answered with a 3-pointer off an assist from sophomore Sam Hauser. Rowsey then hit a jumper on the following possession to put Marquette back up by five. He finished with a team-high 25 points and six rebounds.
"The game presented me an open three and then it presented me a drive to a pull-up," Rowsey said. "So I took what I saw and I made it."
Rowsey nearly negated his heroics with two costly turnovers in the final two minutes. With 50 seconds left and Marquette up two, DePaul's Tre'Darious McCallum stole the ball from Rowsey, but Marquette center Matt Heldt blocked a jumper from Maric to limit the damage. Rowsey later could not break DePaul's press, setting up Strus' possible game-winner.
Although those miscues did not cost Marquette the game, the No. 2 Villanova Wildcats, Marquette's opponent at 7 p.m. Central time tomorrow, might not be as forgiving.
"You have to play a pretty flawless game," Wojo said. "They present so many challenges on both ends of the floor. We're going to have to play our best basketball."