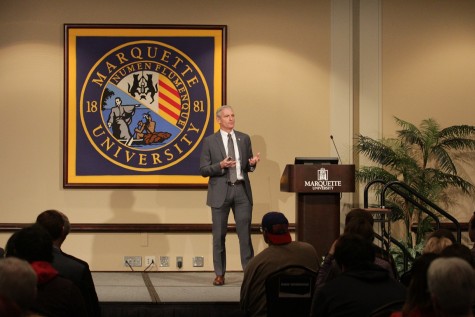 University President Michael Lovell presented his second Presidential Address teeming with new announcements to a packed Alumni Memorial Union ballroom on Wednesday.
Students, faculty and staff were in attendance and heard announcements including the return of homecoming week, an investment going towards the creation of a new athletic research center and the appointment of the third chancellor in Marquette history.
New investment in Athletic Performance Research Center
Eliciting gasps from the audience, Lovell announced a $40 million capital investment from Aurora Health Care for Marquette's future Athletic Performance Research Center. This is the single largest investment Aurora has made with a partner. Mike Lappin, Aurora's chief administrative officer of corporate security, was at the address.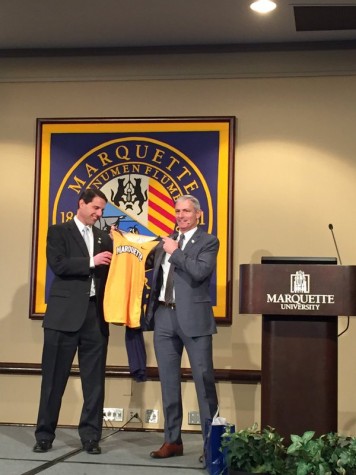 "This will be a premiere facility, it will become a national model and it will be great for Milwaukee," Lappin said. "Aurora's proud to join Marquette and play a leading role in this bold and innovating project."
Lovell said the center will cost around $120 million and be anywhere from 250,000 to 300,000 square feet. It will be bordered by 6th Street, 10th Street, W. Michigan Street and the Marquette Interchange.
"I'm hoping the center will be open to all university students and that we'll continue to bring out a lot of research and innovation," said Adam Kouhel, a sophomore in the College of Business Administration and member of Marquette Student Government.
Groundbreaking is planned for 2017 and is slated to finish when the new Milwaukee Bucks' arena district is done. The Bucks are also a partner and will train in the completed center.
Homecoming will return this fall
Lovell also announced that homecoming week will return to Marquette in fall 2016. An entire week of activities will take place during the week of Marquette Madness.
"I know (Lovell's) been a students-first type of president and we're eager that he's continuing on a tradition we had years ago," Kouhel said.
A homecoming committee has been established and includes a student and two faculty members so far. Students were welcomed to contact Marquette Student Government with suggestions of events for the week.
Possible campus grocery store
A grocery store near campus was also teased during a post address Q&A.
"I will just tell you, we are pretty close," Lovell said. "We have a grocer, we have a developer, we have site and now it's just a matter of getting all of those things in line and all of the agreements in place."
Lovell said he plans to have another announcement about a grocery store later this semester.
Master plan discussions
The master plan will decide what areas of Marquette need to be redesigned, where the university is struggling as a whole and how that can be fixed in the future. Input forums are being held to create the newest master plan, Beyond Boundaries. The plan is slated to be finished by fall 2016.
Lovell went over prominent suggestions heard during the input forums, which include closing McCormick Hall, closing or renovating O'Donnell Hall, and creating new upper- and lower-division halls. None of the suggestions are official plans.
"Master plans usually take 10 to 15 years, so we won't be tearing down McCormick tomorrow," Lovell said.
Emma Spring, a sophomore in the College of Communication, said she'd be sad to see McCormick go because she lived there as a freshman and liked its inclusive environment.
"I feel like all the alums that I personally know and talk to have so many great memories, as have I, at McCormick," Spring said. "It's part of the school and it's part of the experience that we all have in common."
"I think Marquette just has a community in general and we have sub communities in residence halls, within student organizations and different types of sports," Kouhel said. "I assume that any time we will introduce a new dorm or a new building, that we'll be able to rebuild a community that may get lost."
MUPD update
In the eight months since the Marquette Police Department was commissioned and since there has been a 26 percent decrease in overall campus crime and a 34 percent decrease in campus robberies. Lovell also mentioned MUPD's strong effect on the surrounding community by logging a combined 189 hours of community service so far.
"It just makes you feel safer," Spring said about the reduction in crime.
Engagement and inclusion
Following new diversity initiatives announced Tuesday by Provost Daniel Myers, Lovell announced a new theme added to Marquette's strategic plan – a culture of inclusion. It replaces the organizational effectiveness theme, which was dissolved into three university goals – academic excellence, research and action and sustainability of valuable resources.
In addition, Lovell announced a new Office of Community Engagement which will consolidate community engagement efforts throughout campus.
Growth in research and innovation
Marquette is behind 11 invention disclosures this academic year, a drastic increase from five at this point in the 2014-'15 school year, marking a 120 percent increase. With the completion of Marquette's research space in the Global Water Center, 13 project teams will be selected to use it.
The university also moved up in its Carnegie Classification in Doctoral Research University and Doctoral Higher Research Activity.
Kohler Center relocation
The Kohler Center for Entrepreneurship will be moved from the f
ourth to the first floor of the 707 building. The move puts the center in a high-traffic area in an effort to increase student awareness and involvement.
Lovell said the center broadened its impact – boasting three times more student entrepreneurs involved compared to the previous year.
A new chancellor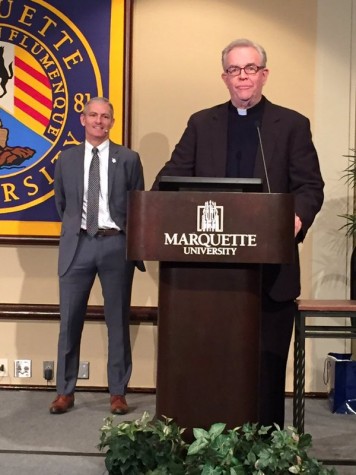 Former University President the Rev. Robert Wild, was named Marquette's third chancellor.
"Basically, I will continue to do what I'm doing, which is working in fundraising," Wild said. "But I think this will be a help as we seek to do great things in this upcoming campaign and I am very much honored."
Wild served as president from 1996 to 2011 and interim president from September 2013 to June 2014 prior to Lovell's appointment.