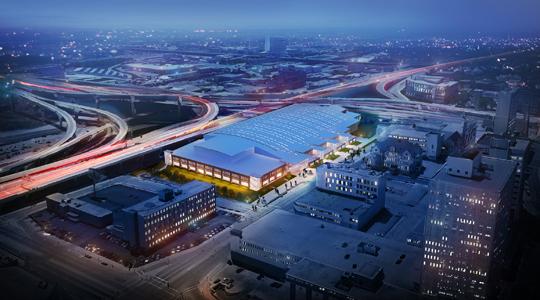 Aurora Health Care will partner with Marquette to construct the Athletic Performance Research Center, University President Michael Lovell announced Wednesday in his second presidential address.
Aurora will make a $40 million capital investment toward the $120 million facility. This is the largest investment Aurora has made with a partner in its headquarter company.
"This signature project represents a truly extraordinary opportunity to transform our region, and we couldn't be more excited to partner with Aurora Health Care," Lovell said. "This center will become a unique destination and national model that spurs innovative research and significantly advances our missions."
Announced last year, the center will border Sixth Street, 10th Street, West Michigan Street and the Marquette Interchange. It is planned to be anywhere from 250,000 to 300,000 square feet.
"This partnership is a true differentiator, bringing experts from health care, higher education and the highest level of sports together to take health science, innovation and research to the next level," CEO of Aurora Health Care Nick Turkal said. "We are looking forward to providing unprecedented research and training opportunities at this world-class facility, which will help serve as a catalyst in further revitalizing Milwaukee's downtown region and be a driver for long-term positive change."
Groundbreaking on the center is expected to take place in 2017, and it will open around the same time as the Milwaukee Bucks' multi-purpose arena district. The Bucks are also a partner and will train in the completed center.