Amplo enjoys first stint with U.S. National Team
Hang on for a minute...we're trying to find some more stories you might like.
Marquette men's lacrosse coach Joe Amplo worked with many of the most talented lacrosse players in the world over break. He experienced his first run as an assistant coach with the U.S. National Team at the Spring Premiere in Bradenton, Florida.
"It was one of the coolest experiences that I have had as a coach," Amplo said.
The training camp was highlighted by a scrimmage against the defending NCAA national champions and Marquette's BIG EAST rival University of Denver. The national team handled the Pioneers, defeating them 22-6, a feat the Golden Eagles are still looking to do for the first time. Amplo said he wasn't doing any scouting just yet.
"I didn't really say 'Oh, I enjoy beating Denver,'" Amplo said. "I know it's coming our way. I know we're going to have a challenge beating those guys."
Denver has yet to lose to a BIG EAST opponent since joining the conference two years ago. The Pioneers were without 11 players for the scrimmage, including Trevor Baptiste, the best faceoff specialist in the country, and Zach Miller, who has scored 64 goals in his two-year career.
Amplo is coaching alongside two of the elite names in the sport – Duke head coach John Danowski and Hofstra head coach Seth Tierney. Amplo and Tierney were on Danowski's staff when he was Hofstra's head coach (Amplo from 1999-2001 and 2003-2006, Tierney from 1995-2000). Amplo was also an assistant under Tierney at Hofstra from 2006 to 2011. The three remain close friends.
"On Thursday night before I went down there I had a picture that I found," Amplo said. "It was from the 2000 America East Championship. It was the last game that myself, coach Danowski and coach Tierney were on the field together winning. We lost the next game in the first round of the NCAA tournament… I sent those guys the picture, and said, '16 years ago, if you thought the next time we'd be coaching together was Team USA, no one would have said that.'"
In many ways, it's a learning experience for Amplo. He is not only adjusting to coaching professionals but also players who he's only seen from a distance. He said he was less demanding in his approach as he tries to figure out how his personality meshes with the players.
"(I know them) just from seeing those guys play as a fan, more so than being really familiar with their skill set," Amplo said. "(I'm) trying to feel out what they can and can't do. We put them in a bunch of different situations throughout the game and over the course of the weekend just to try and learn what they're going to be good at and what the bar will be."
The player that stood out most for Amplo was Casey Powell, whose accolades would take days to list. He was a three-time first-team All-American and was twice named Division I lacrosse's Most Valuable Player at Syracuse. In 2013 he was the Major League Lacrosse MVP playing for the Florida Launch at the ripe age of 38. Powell has already announced that he'll be retiring from field lacrosse at the end of the MLL season, but he still wanted to be involved in the process one final time. When he's on the field, it's like having another coach.
"I told him afterwards, 'You set the bar high for these guys and showed them the way and what it means to have a great culture,'" Amplo said. "'You may not be a part of the team in 2018, but your impact is certainly going to be there.'"
The Spring Premiere was just the first step in preparation for the 2018 Federation of International Lacrosse Championships in Manchester, England.

About the Writer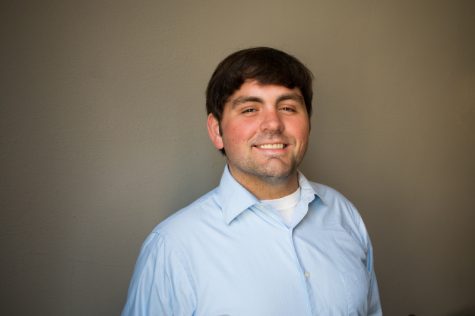 Jack Goods, Sports Editor
Jack Goods is the sports editor of the Marquette Wire, covering the men's soccer, basketball and lacrosse teams. He is a senior from Buffalo, New York...