Champs! Marquette stuns No. 1 Denver for first BIG EAST title
DeMichiei's goal sends Golden Eagles to first NCAA Tournament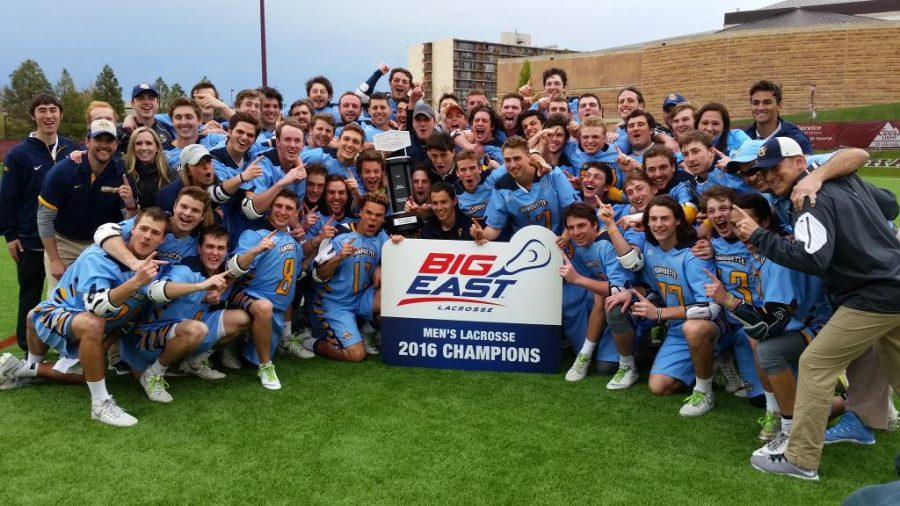 Marquette secured its first NCAA Tournament appearance with a come-from-behind victory over defending NCAA Champion No. 1 Denver, the Pioneers first loss in BIG EAST conference play since they joined three years ago. The Golden Eagles roared back from a 7-3 halftime hole, shutting out the Pioneers in the third quarter and scoring six straight goals.
Some of Marquette's most valuable seniors didn't think they'd even play college lacrosse. Today, they walked off the field champions and get to extend their college careers just a little bit longer. Marquette went from not having a lacrosse program to BIG EAST Champions in six short years.
Marquette locks up the conference's automatic qualifier with the victory, ending any worry caused the past few days by No. 1 seeds falling in their respective tournaments. The Golden Eagles will learn their fate tomorrow on Selection Sunday, when the matchups will be revealed live on ESPNU starting at 8 p.m.
Andy DeMichiei scored the game-winner, his second, with just under six minutes remaining. The Golden Eagles were able to shut down the Denver offense from that point on, including a final possession in the closing seconds. Connor Canizzarro, Denver's leading scorer, was unable to get his shot off with 20 seconds remaining, as B.J. Grill's stick check allowed Marquette to steal the ball and run out the clock.
Tanner Thomson scored a career-high four goals in the game and added an assist. Blaine Fleming, Conor Gately, Liam Byrnes and Grant Preisler each found the back of the net once.
Zack Melillo was able to handle Denver's Trevor Baptiste, arguably the best face-off specialist in lacrosse, winning 52 percent of his draws. He was one of four Golden Eagles named to the All-Tournament team. Thomson, Liam Byrnes and Cole Blazer also received honors. Byrnes was named the tournament's Most Valuable Player.
The win is Marquette's first over a No. 1 ranked team in program history and the first time any Marquette team has beaten the top-ranked team since Marquette basketball in 2003 against Kentucky.
The first round of the NCAA Tournament will be played next Saturday and Sunday. The top eight seeds and the better seed of the two teams in the play-in game will host their game. Marquette was ranked No. 15 in the RPI coming into the weekend, and with wins against Villanova, ranked 11th, and Denver, ranked 3rd, a home game for the Golden Eagles is not entirely unrealistic.