The crowd poured into the Eagles ballroom for the first night of the 10th annual Big Snow Show this past Thursday. The sold out show started with the one-man band, BORNS, taking the stage. He sang songs from his recently released debut album "Dopamine" and hits like, "10,000 Emerald Pools" and "Electric Love." He opened with his intimate set and his soothing sound. His simple lights and set helped the audience focus on his smooth voice. His band and him rocked the stage and warmed it up well for the following acts.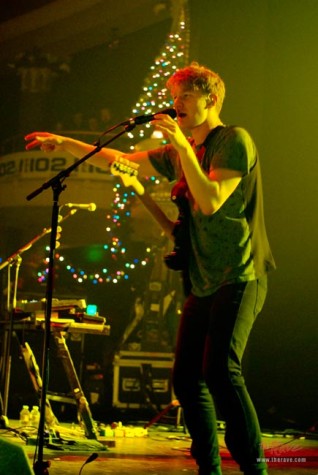 X Ambassadors were up next. After the soft tunes from BORNS, X Ambassadors amped up the crowd, giving them a hyped performance. Their sound won over the crowd with their angsty vibe and high-energy. The lead singer the entire stage dancing, singing and jamming with his fellow band members and the audience. He got the audience
pumped up by singing their hit tunes "Jungle" and "Renegades." He broke out a saxophone and hopped down to the audience, surprising the concert goers, while also getting them more excited for the rest of the show.
Glass Animals took the stage after them. They toned the concert down with their funky, psychedelic indie tunes. The cool blue and purple colors of the lights helped reflect the tone of their music and coplimented the beat of the music, giving the band an interesting set. They sang their songs "Gooey," "Hazey" and "Toes" from their album "Zaba." They however mixed things up by treating the audience to a cover of Kanye West's "Love Lockdown." Their whole set had the audience grooving.
The crowd grew and grew, all in anticipation for the main act,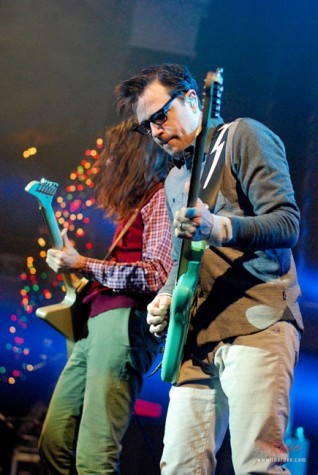 Weezer, who blew all the other bands out of the water. They opened with their classic rock tune, "My Name is Jonas," making the audience hooked right away. They continued to sing their popular hits from all different albums like "Hash Pipe," "Island in the Sun," "Thank God for Girls" and "Say It Ain't So." They had their lights going crazy in the venue, moving all over stage. Their set would not be complete without their classic "W" in the background. During their whole entire set the audience was jumping, dancing and singing along. After closing their set with "Undone-The Sweater Song," they return to the stage in Santa hats to finish opening night with their encore. They finished off the night with "Beverly Hills" and "Buddy Holly." Before leaving the stage, they took a final bow making the crowd go wild. The first night of the Big Snow Show left the crowd ready and excited for the following nights.