Ellenson brothers excited to play together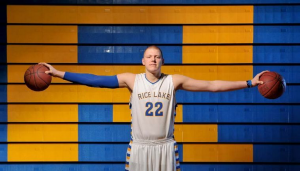 Ever since he signed his National Letter of Intent, Marquette fans have been counting down the days until Henry Ellenson hits campus.
Ranked No. 5 overall by ESPN, No. 7 by Scout and No. 10 by 247sports, Ellenson highlights a top-10 recruiting class by coach Steve Wojciechowski. He brings tremendous upside to the program, which aims to have a bounce back year. But there's one player who's more excited than most to play with Ellenson: his brother, Wally.
The two played together before, notably when Henry was a freshman at Rice Lake High School and Wally a senior. The two played varsity together and enjoyed the time. But then Henry stayed at Rice Lake while Wally went to Minnesota.
Wally and Henry always dreamed they would be able to play together somewhere, and the idea of playing together at Marquette was too good to pass up.
"It was a thought always in the back of our heads," Wally said. "We both knew we were going to play at the Division I level. It's a dream come true to have the opportunity to play with each other… The ability to do that in college is something that's hard to pass up."
Wally transferred to Marquette last summer, but said his recruiting had nothing to do with Henry's. He said his relationship with Wojciechowski was different than Henry's, which helped separate the two.
"I walked to (Wojciechowski) and it was right after I decided to leave Minnesota," Wally said. "We developed a good relationship. At the same time, while he was building a relationship with me, he was building a relationship with my brother."
Now, the two are a part of the same program. Wally said his brother brings a lot to the table for Marquette, but the biggest thing Henry has to offer is his work ethic.
"There's a lot of tall people, there's a lot of big men. But none that I've seen work out harder than Henry does," Wally said. "I'm just so excited for him to come down to campus in the summer and get in the gym."
Henry enters Marquette positioned as the team's starting power forward. He has a great jump shot and can hit a shot from any place on the court, whether low in the paint, out on the key or even behind the arc. He has a massive wingspan, which will help him bring down rebounds and play stout defense.
Of course, like every freshman entering collegiate ball, Henry needs to bulk up slightly and build a bigger frame. He could be better off the dribble, but that shouldn't be much of a problem because of Henry's athleticism. Overall, Henry lives up to the hype of being one of the top recruits in the nation.
Being the headline recruit in a headlining recruiting class brings about a lot of pressure – something Wally thinks his brother will no doubt live up to.
"He loves that kind of pressure," Wally said. "It's just something he drives off of. He never really looks at the pressure, he just goes out there (and) plays hard."
Henry heads to Marquette, lauded by fans as a potential program-changing player. While it remains to be seen if he will live up to the comparison, Wally said he knows Henry will be a favorite for the Golden Eagle faithful.
"He's going to make an immediate impact," Wally said. "He's an unbelievable player… It's fun that we get to do this together."
Leave a Comment