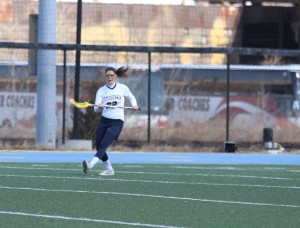 The Marquette women's lacrosse team is coming of its first win of the season and will travel to California-Davis Sunday and try to win two straight games.
Marquette allowed two second half two-goal leads to slip by at Duquesne last Saturday, but managed to win in overtime on redshirt sophomore midfielder Taylor Smith's goal with 1:26 remaining in the period. The goal was Smith's fourth of the game, a career-high and was followed by junior goalie Sarah Priem's tenth and game-clinching save as the clock hit 0:15 in the OT period. Marquette escaped with the 8-7 win and Smith and Priem's performances earned Big East Weekly honors.
Priem was named Big East Defensive Player of the Week and Smith was chosen for the Big East Weekly Honor Roll for their roles in the victory against the Dukes and marks the second consecutive week in which a Marquette player won weekly honors. Last week, freshman Riley Hill won Big East Rookie of the Week after a two-goal performance in a 13-6 loss to Northwestern.
The Golden Eagles' next opponent, the UC-Davis Aggies, will also be looking for two consecutive wins. The Aggies collected their first win of the season Monday against Detroit Mercy 13-10.
UC-Davis had three scorers with four or more goals that day and managed to get 23 of their 25 shots on net. Leading the Aggies in scoring was junior midfielder Courtney Neff with five goals and senior goalie Kai Murphy had 11 saves on 21 shots faced. Murphy's squad faced a 4-1 deficit early in the first half, but went on a decisive 7-1 run which extended into the second half and gave the Aggies the game.
UC-Davis leading scorers are senior and sophomore attacks Elizabeth Landry and Melissa Kellan, each of whom have 10 points. All of Kellan's points come from her 10 goals on just 12 shots for absurd .833 shooting percentage. In net, Murphy allows 9.66 goals per game and has a save percentage of .500. The Aggies score nine goals a game and have a shots on goal percentage of .825 as a team.
Marquette, on the other hand, scores 6.5 goals per game and has SOG percentage of .740, though the Golden Eagles hold their opponents to a .714 percentage. Junior attack Claire Costanza leads Marquette in scoring with nine points on six goals and three assists and Smith is close behind with eight points on a team-high seven goals. Priem has a goals against average of 9.57 and a save percentage of .397 on the season.
Marquette will take on UC-Davis Saturday, March 8 at 3 p.m. in Davis, California, which is the first game of a three-game road trip in the state. The Golden Eagles will also face off against St. Mary's and Southern California before returning home for a tilt against Michigan March 20.