Conor Gately named to Tewaaraton watch list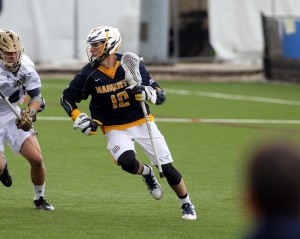 Marquette junior attackman Conor Gately is one of 50 finalists announced for the first Tewaaraton Award watch list, as announced by the Tewaaraton Foundation earlier this evening. The award is given to the top lacrosse player in men's and women's lacrosse.
"It is nice a nice recognition for Conor, but it is more of a team recognition in that we have been fortunate to have success as a program," Marquette head coach Joe Amplo told GoMarquette.com. "Conor is one of the guys who has received some notoriety because of our success."
Gately is the first Marquette player to be featured on the watch list. He has six goals and five assists through three games this season. He had three goals in last week's win over Richmond. He is the programs second leading scorer all-time, behind only Tyler Melnyk.
There is still an opportunity for players outside the 50-man list to be added before it is cut in half on April 23. If there are additions they will be announced March 19 or April 9.
Gately is one of three Big East players featured on the list. He is joined by two players from Denver, senior attackman Wesley Berg and sophomore attackman Connor Cannizzaro.
Berg is considered one of the favorites for the award, along with Albany senior attackman Lyle Thompson, Notre Dame junior attackman Matt Kavanagh and Ohio State senior midfielder Jesse King.