4 ways Marquette can stun the Wildcats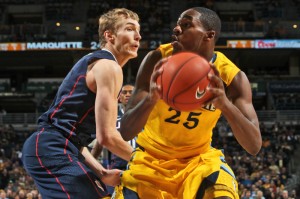 Marquette welcomes the mighty Villanova Wildcats to the BMO Harris Bradley Center for a National Marquette Day showdown. Villanova enters Milwaukee as one of the hottest teams not only in the Big East conference but in the nation. The Wildcats are winners of seven straight, and only two of those wins were by single-digit margins.
Marquette is a heavy underdog entering this contest. The Golden Eagles dropped eight of nine games and were dominated by the Wildcats 70-52 in the first contest in Philadelphia.
There isn't much the Wildcats do wrong. Villanova tops the Big East in scoring margin, turnover margin and is second in shooting percentage and shooting defense. It might take a perfect effort from the Golden Eagles and a sluggish outing from the Wildcats, but here are some ways Marquette can attempt to pull off the enormous upset.
Get Villanova's starting five in foul trouble
The Wildcats play only six players more than 20 minutes per game. Marquette only has eight guys on its roster and that's including Matt Carlino, whose health is still in question. Villanova's starting five is one of the best lineups in the country. Marquette will need to disrupt the unit's rhythm if it wants any chance of pulling off an upset.
Marquette can do this by attacking the paint and using fluid ball movement to get Villanova out of place defensively. Marquette must find a way to draw fouls and get Villanova deeper into its bench than head coach Jay Wright is comfortable with.
Marquette drew only 11 fouls in the Feb. 4 defeat in Philadelphia. Villanova did play 12 guys, but only because it was a blowout.
The Golden Eagles need to find a way to get Villanova's starting five out of sync early. Marquette is ninth in the conference in free throw shooting, but earning countless trips to the line could keep the Golden Eagles in the game against a stout Wildcat defense.
Carlino's return
This could be the biggest factor of them all. Graduate senior Matt Carlino missed the past three games after suffering a concussion in the loss to the Wildcats. Marquette's offense has appeared lost without its leading scorer.
Carlino's status for Saturday afternoon is still uncertain. Coach Steve Wojciechowski said in a Big East teleconference last Thursday he was looking forward to having Carlino back "sooner rather than later." It's been two weeks since Carlino suffered the injury, but concussions have very inconsistent recovery periods amongst athletes.
Carlino might be the only way Marquette can stick around with the Wildcats. If he cannot suit up on Saturday, his team may be sunk before tip-off.
Contain Josh Hart
Darrun Hillard is the leading scorer for Villanova at 14.3 points per game, but Hart may be the more volatile player. Hart is fifth in the conference in 3-point shooting and averages 9.7 points off the bench.
Hart scored 11 points in 25 minutes for the Wildcats in the previous game and was only 4-of-13 from the field. He did make 50 percent of his 3-point shots, however.
Villanova's starting five is stellar, but Hart is in the running for the conference's Sixth Man of the Year award. He's a scary shooter and can change a game in just a couple of minutes if he's on his game.
Figure out Ryan Arcidiacono
Here's Arcidiacono's numbers during his last three games against Marquette: 15.3 points per game with 4.7 assists per game on 48 percent shooting from the floor and 57 percent from 3-point land.
Hillard, Hart and JayVaughn Pinkston may get the most attention nationally, but Arcidiacono has been the biggest problem for the Golden Eagles as of late. The onus will likely be on Derrick Wilson to limit the guard.
Leave a Comment