Marquette women's team upsets Seton Hall on senior day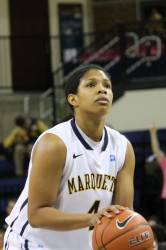 A senior day shocker unfolded in the Al McGuire Center Sunday afternoon as the Marquette Golden Eagles (6-19, 2-12) knocked off the No. 24 Seton Hall Pirates (22-3, 11-2) 73-70.
"First of all, I'm just so thrilled for our seniors," said coach Carolyn Kieger. "That was just a lot of fun for them. They just had tears and smiles on their faces that I haven't seen all year."
Senior guard Arlesia Morse proved to be the difference in this game. She went only 4-for-12 from the field and still managed to score 22 points, mainly on the strength of her 13-14 effort at the free throw line. Morse, the best free throw shooter in the nation, hit ten straight foul shots to push her streak of made free throws to 51 before finally missing one with 1:19 left in the game.
Morse denies that the streak was ever on her mind when she stepped up to the line.
"Most people ask me about the streak and I don't even know how long it is," Morse said. "I just know that I hadn't missed the last few games."
The Golden Eagles went on a 13-4 run that spanned the last three-and-a-half minutes of the first half to storm out to a 47-33 lead at the break.
Seton Hall, not content to go down without a skirmish, mounted a vicious comeback coming out of halftime. The Pirates were led by shooting guard Daisha Simmons, who scored 22 of her 32 points after the intermission. Her tip-in with 1:41 to go drew the Pirates to within two points of Marquette.
Marquette, however, managed to get to the free throw line enough times to grab a three-point lead with 4.7 seconds on the clock and possession of the ball.
Panic soon filled the Al McGuire Center as Morse lost control of the ball off of the ensuing inbounds pass and couldn't reel it back in. Seton Hall forward Tabatha Richardson-Smith picked it up and fired a last-ditch three-pointer, but it rimmed out and Marquette officially hung on for a 73-70 victory.
"That's the most fun I've had in awhile, no question," said Kieger.
Graduating seniors Chelsie Butler, Apiew Ojulu, Cristina Bigica and Morse were honored at a pregame ceremony. All of them have played their final home game in a Marquette uniform.