Final provost candidate speaks on collaboration, enhancement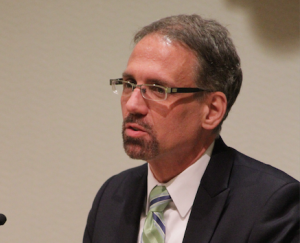 Daniel Myers, the last final four provost candidate to speak on campus, stressed value on a collaborative decision-making process and continual work to support, enhance and reflect the university's mission.
Myers is the vice president and associate provost for faculty affairs at the University of Notre Dame.
In his introduction, Timothy Melchert, chair of the Academic Senate, said Marquette is in need of a "strong provost" who is second-in-command to the president. Myers said he plans to approach the provost position with humility if accepted.
"I think administrative work, at its core, is about choosing a life of service," Myers said. "If you can't get satisfaction from the achievement of others, you won't be very good at that job."
Myers said the most effective administrators do not fall into the "myopia of me" trap. He said he thinks a good leader is someone who brings many different kinds of people to the table, and grows, responds and develops with others.
One of Myers' plan is to learn about the provost role and Marquette before making large assumptions comparing Marquette to Notre Dame. He said he plans on using his experience at Notre Dame to bring new insights and ideas, but will still value collaboration and inclusion in decisions.
"Everybody's smarter than anybody," Myers said. "Someone or someones will find a way to improve on an idea."
He said his role, and the role of those around him, would be to interrogate ideas and ask whether or not they would advance the university. Myers said he recognizes it's not always possible to please everyone, and that his goal would not be to change the minds of opposition, but rather to explain his reasoning so they may understand his decisions.
"Academic interests shouldn't just be present, it should be paramount," Myers said.
Nic Schmidt, sophomore in the College of Engineering and MUSG Senator, asked Myers how he felt the provost should interact with students. Myers, who holds a master's  degree in higher education and student affairs, said he believes student interaction is highly important.
"I don't have an official tie to student government (at Notre Dame,)" Myers said. "I don't care. I do it anyhow. Students bring so much to the table."
Schmidt said he doesn't believe there's a problem with the faculty's communication currently, and that he would like it to stay that way.
"It is a big asset to student government and students as a whole," Schmidt said. "A cooperative effort benefits the student body."
Schmidt said he would like to encourage students to take an active role in choosing the provost. Students can do so by watching the speaker's videos and contributing input through surveys online.
Myers' second public speaking engagement is Friday at noon at the Raynor Library Beaumier Suites.
To access the provost videos and feedback forms, click here. Videos are restricted to on-campus and Marquette VPN users. The feedback forms are due Wednesday, Jan. 28.
Leave a Comment