Women's basketball looks to bounce back against Badgers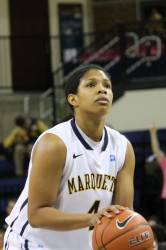 The women's basketball team will face a familiar foe in its in-state rival, the Wisconsin Badgers, this Saturday at the Kohl Center in Madison at 1 p.m. The annual matchup will be a chance for Marquette to avenge its 62-60 home loss last season in a back-and-forth matchup.
The Badgers (1-4) are coming off a winless weekend in their non-conference tournament trip to the Bahamas. The two-game set at the Junkanoo Jam resulted in losses to South Carolina and East Carolina by a combined 41 points.
Each loss for Wisconsin could be credited to the turnover differentials and momentous scoring runs by its opponents. The Badgers turned the ball over 21 times against South Carolina compared to just 10 from the Gamecocks. East Carolina won the turnover battle in the second game by a 23-13 margin. To top it off, Wisconsin went on major cold streaks in each game, which put each contest out of reach.
With 7:06 left in the first half of their matchup with South Carolina, the Badgers made a free throw to get the game to a one-point deficit. But, from then until the end of the half, Wisconsin would only make one of its final eight shots from the field, while South Carolina extended its lead to 31-18.
A similar run against East Carolina quelled any hope of pulling out a win on the weekend. After trailing by only two with 15:45 left to play in the game, an 11-1 run for East Carolina would make it a 13-point lead late in the game, all but ending the match.
While the Badgers are having problems in the early part of the season, it certainly won't be an easy matchup for the Golden Eagles, who are struggling themselves. After its second win of the season against Wisconsin-Milwaukee, Marquette (2-4) has stumbled with two losses in a row, including a home loss to mid-major foe South Dakota, and a road loss at Auburn.
After allowing an effective field goal percentage of 58.8 percent in the second half against Auburn, Marquette's defense will have to be play better against Wisconsin's sophomore guard Nicole Bauman and redshirt senior forward Michala Johnson. Bauman is one of Madison's best 3-point shooters from outside at 40 percent on the season and is coming off a game in which she hit three triples. Johnson is a difficult matchup inside and is scoring 15 points a game with 7.2 rebounds per contest.
The key for the Golden Eagles will be how efficiently senior guard Arlesia Morse and freshman guard Kenisha Bell shoot from the field. Morse and Bell have combined to shoot only 16-of-56 from the field during their last two games, a dismal 28 percent. If they are not hitting their shots, it will be important for the team to work the ball around the wing for open shooters, given how much defensive pressure the duo usually draw.
Following its trip to Madison, Marquette will return to the Al McGuire Center Dec. 15 for a matchup against Northern Kentucky.