GOLDEN EAGLE: High-energy offense will get Marquette points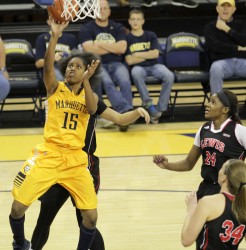 After losing five players from the previous season's team, most followers of the Marquette women's basketball team are expecting a rebuilding season.  
Yet, the theme around media day was of energy and excitement. Despite losing 58 percent of its scoring, new coach Carolyn Kieger expects to score, and score a lot more than last season's team with a frantic style.
"We want to score a lot of points," Kieger said. "We want to share the basketball, we want to play disciplined, and we want to play an up-and-down style of play that the players love to play and the fans love to watch."
Kieger's style will be based on pushing the ball and creating as many fast-break opportunities as possible. The quicker the offense, the more possessions the team can have offensively and the more scoring opportunities the team can utilize.
On defense, Marquette will try to dictate and disrupt the opposing team's tempo by applying a full-court press more often.
"We want to push up to 90 to 100 possessions, and it's all about points per possession," Kieger said. "If we can get up there to a (about a) point per possession, 85 to 90 points, we're sitting where we want to be."
Last season, Marquette averaged 73.3 points a game, but if Kieger achieves her ambitious points per possession goal, then the Golden Eagles could lead the Big East in points per game. The key to setting the faster offensive tone will be based on how well freshman point guards Tia Elbert, Hannah Grim and Kenisha Bell perform.
Kieger said she believes the group has shown the ability to play her style of offense and the speed caters to their individual games.
"It's a unique situation to come into, to have your two point guards (Elbert and Grimm) as freshmen and have not even dressed in a Marquette uniform yet," Kieger said. "But I think the foreign tour really prepared them. Also, you add Kenisha bell to that list and we have three guards who really push tempo and are having the seniors keep up with them in terms of a run and gun mentality."
The aforementioned European tour pitted Marquette against a French professional team and the Netherlands Women's National Team in four exhibition contests in August.
The games, along with an extra 10 practices, were a great way for the new coaching staff to get acclimated to the team and grow closer as a unit. For the five incoming freshmen, it was a chance for Kieger to begin molding the new offense while giving the players much-needed experience in a competitive setting.
One of these incoming players, freshman Tia Elbert, thought the trip gave her a chance to grow into the point guard position.
"Well, the biggest thing I learned was that the game is a lot faster," Elbert said. "I think in Europe that was one of the biggest things I noticed. You have to come out ready to play from beginning to end. Coming in here as a freshman, you can't think of yourself as a freshman, especially on this type of level of play."
But with all the excitement around the new style, Kieger is also conscious that there will be growing pains. When asked about playing fast and managing turnovers with a young backcourt, she laughed at the proposition.
"If anyone knows, please let me know because that's (managing turnovers) the magic ticket right there," Kieger said. "You'll probably see a couple of our early games in high turnover numbers, but as we go and we learn and adjust to each other, we'll cut those down."