Brad Paisley redeems himself with "Moonshine in the Trunk"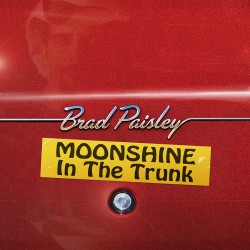 After facing controversy for his previous album's heavy topics such as racism and domestic violence, Brad Paisley goes back to his fun-loving ways in his tenth album, "Moonshine in the Trunk," which dropped Tuesday.
While Paisley attempted to break the race barrier with his single "Accidental Racist" in his album "Wheelhouse," critics believed the song to be poorly written and easily taken as offensive. However, Paisley redeems himself in his new album by successfully taking the classical country sound and giving it an electric dance music twist.
By straying from traditional country status quo, Paisley put out an album with numerous catchy, laid-back summer hits, the kind of music his fans will appreciate the most. His opening track "Crushin' It" captures just that with lyrics, "Every week has a weekend/ By this time Friday night/ You want a margarita/ I'll get tequila and ice," expressing the perfect end of school or work week anthem. "Riverbank" continues this carefree attitude by celebrating the simple things in life, like "laughing all the way to the river bank."
The singer creates a nice balance in his track list by also including songs with powerful meanings, like "Shattered Glass," which encourages women to reach for the stars and reminds them that there are no limits to their dreams. He even sought out Ellen DeGeneres to help leak this unique song on women empowerment before the official album release. Ladies will also appreciate his song "You Shouldn't Have To." It touches on all the things that women are capable of doing on their own, but that he believes they shouldn't have to.
Paisley's hit, "Country Nation," gives light to unity while celebrating the working class, with a feel-good country beat.
"American Flag On The Moon" inspires listeners to believe in the impossible and opens with a piece from John F. Kennedy's 1962 "Man on the Moon" speech. The track gives Americans a sense of pride in their nation and all the progress made. Paisley also leaked this track to fans early at NASA's Kennedy Space Center.
Just when you thought Paisley covered all the advancements in America, "Gone Green" tells the tale of an old redneck and his sacrifices to become more eco-friendly. Unfortunately, the track and its story are both rather annoying. The sound strays from the contemporary sound that make the rest of the album great and replaces it with a redneck, folk sound often found from older country tunes.

Country beauty Carrie Underwood makes an appearance in the humorous song "High Life," as they sing about a low-life clan just looking to score some more cash, and their love for Chick-Fil-A waffle fries. The track even features lyrics about suing Carrie Underwood, making her presence in the song that much better.
Every country fan knows that no album is complete without a song about a pick-up truck, and so does Paisley. With lyrics, "Let's get a little mud on the tires/ Slam this four-wheel drive into four-wheel park," Paisley contributes a redneck love song to the album, exemplifying why some either love or hate the genre.
Paisley's success at integrating electric dance music into country may scare fans into thinking that he is straying away from the genre, but it also shows that his music can evolve. Paisley may be taking the first step needed to produce country tunes appealing to all ages and music interests.
Leave a Comment