Milwaukee's best Friday fish fries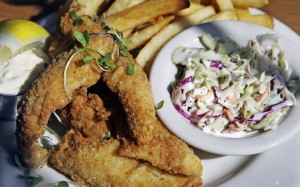 Something smells fishy in the state of Wisconsin.
While Lenten Friday fish fries are common across the United States and will end after Easter Sunday, Milwaukee takes pride in its year-round fish fries.
Friday fish fries come from the tradition of Catholic immigrants who settled in Wisconsin and abstained from meat on Fridays during Lent. It also probably helped that a couple of the Great Lakes border the state. Since then, the fish fry transformed into a cultural practice for Wisconsinites of all different faiths and backgrounds.
Milwaukee alone has dozens of restaurants that offer fish fries every Friday throughout the year. The fish usually includes cod, perch, bluegill and walleye. Although the fish are usually fried, more health conscious Friday pescetarians can usually request a baked order.
Lakefront Brewery, 1872 N. Commerce St.
Lakefront Brewery hosts one of the most popular fish fries in Milwaukee with its variety of freshly served cod, perch and smelt.
"We like to use locally sourced products in our fish fry," said Marvin Waters, the Lakefront Brewery beer hall manager. "It's one of our goals at Lakefront Brewery to be local first."
Part of what makes this fish fry stand out is the polka group that plays in the beer hall every Friday.
"The polka combined with the building itself make for an amazing fish fry here and it really becomes an event," Waters said.
It also brings together a variety of people with its high profile in Milwaukee.
"(It is) family-style feeding so you're meeting a lot of people, maybe someone from Japan or Florida or somewhere else," Waters said. "We really get all sorts of visitors who come from out of state and say well we're in Wisconsin we have to go to a fish fry."
Lucille's Piano Bar & Grill, 1110 N. Old World 3rd St.
Also serving up fish with a side of music on Fridays is Lucille's Piano Bar & Grill.
"We offer three types of fish: tilapia, catfish and cod," said Jon W., a manager at Lucille's Piano Bar & Grill.
To him, the lure of the fish fry is the homeyness surrounding it.
"It's just the tradition of fish fries and the tradition behind the different recipes and that is what drives the interest in so many different fish fries in Milwaukee," he said.
Old German Beer Hall, 1009 N. Old World 3rd St.
The fish fry served up at Old German Beer Hall follows a tradition that cannot be found anywhere else in Milwaukee.
"We use a beer batter you can't find anywhere else in the city," said Tony Meyer, kitchen manager of the Old German Beer Hall.
That beer batter is made with Hofbrauhaus Dunkel beer.
"Our dark lager comes from Munich Hofbrauhaus beer," Meyer said, "and is what makes our fish fry a little bit different from the others in the city."
It is a modest tradition befitting the simplicity of the Wisconsin fish fry.
"It's a very simple thing," Meyers said. "We don't pretend to be different, except for our ingredients."
Although Lent is drawing to a close, the Wisconsin culinary staple that is fish fry can (and should) be enjoyed any time of year.
Leave a Comment