Fashion Week with Jason Wu Fall 2014 RTW: Oversized Coats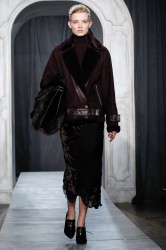 Since the weather doesn't look like its warming up anytime soon, don't store away the coats just yet. A certain jacket or coat could either make or break an outfit. If you are proud and confident with your look, why ruin it with something abnormally large and puffy. Luckily, there's a perfect alternative. Oversized structured coats, this month inspired by Jason Wu's collection, is the essential blend of comfort, warmth and style. Jason Wu's Fall Ready To Wear 2014 show exemplified many styles, structures and lines, especially in the coats and furs.
Coats with lapels, hoods, furs and leather belts worked their way gradually throughout the show. The collection had a great balance of silk, chiffon, and heavily structured blazers and jackets. However, the oversized coats definitely stood out among the more loose and flowing articles of clothing. Jason Wu modeled his show after a modern 1920's Marlene Dietrich. An elegant woman who wasn't afraid to wear a pair of great tailored pants. Mixing together androgyny and femininity work well for a collective well-rounded look.
Looks from the collection:
The collection embodied rich jewel, slate gray neutrals and black. It varied between sheer chiffon and thick wool or fur. The oversized coats work well with slim outfits, creating clean lines. Each piece is special with it's own pop of leather, fur or silk. To balance out such powerful materials, chiffon tones down the aesthetic.
For similar oversized coats to close this season, H&M has a quite affordable collection, even calf length ones. Akira collection showcases strong lapels.  And for those splurge items, Nasty Gal is always on top of trends.