Family atmosphere helps Evangelio adjust to Marquette
After spending his entire life living in Spain, Nicolás Evangelio knew that he wanted to come to the United States to continue to play golf.
"It's pretty difficult to (study and play golf) back at home because are no programs like this to help you (develop) your golf game at the same time you are studying," Evangelio said. "It was always one of my first options to go to college here in America."
Evangelio grew up in the northeastern corner of Spain in the town of Lorgroño, about a four-hour drive from Barcelona.
"(I was) pretty similar to any high school kid in America, I went to class, practiced golf and tried to get better," Evangelio said.
Evangelio's first stop in his colligate golf career was at Missouri Valley College in Marshall, Missouri.
Evangelio had an accomplished career in his time with the Vikings, earning All-American honors in both of his seasons at Missouri Valley.
After spending two years at Missouri Valley College playing golf for the Vikings, Evangelio transferred to Marquette heading into the 2020 season to play golf for the Golden Eagles.
For Marquette head coach Steve Bailey, during the transfer process, it was more than just those accomplishments that caught his attention.
"He was obviously a very accomplished player at Missouri Valley and that's what initially caught our attention and obviously for us we want to compete at a high level, but we also want to do it with quality character people" Bailey said.
According to Bailey, Evangelio wanted to take the next step in his game with new competition.
"He reached out at the end of his junior year about wanting to compete at a higher level. He had been successful there (Missouri Valley) but he wanted to be part of a program that was playing a little tougher schedule and (the) opportunity to compete against the best players in the country," Bailey said.
Beyond the level of competition, Evangelio joined Marquette because of coach Bailey and the culture within the program.
"I chose Marquette because I think that coach Bailey is doing a really great job, he's a great guy, and I felt since the first day (I was here) that it was like a family, not only the golf team, but the Marquette community and I'm pretty happy with the decision I (made)." Evangelio said.
While there were some challenges for the redshirt junior to adjust to, Evangelio found a way to adapt.
"At the beginning it was a bit difficult, because it is a lot of different cultural things, but I think that it's not far away from how we live in Europe, so it wasn't that difficult," Evangelio said.
Evangelo said having a group of friends from day one made things easier.
"Since the first day I was here I met my teammates and I had a group of friends since the beginning," Evangelio said. " And that helps a lot so I think that it was easy transition for me at least to come to America from Spain."
Evangelio said part of what led him to develop those friendships early on and help with his adjustment was the interactions he had with the nine other golfers, especially those during the early stages of the COVID-19 pandemic.
"We needed to stay in our own bubbles, so we spent a lot of time together," Evangelio said. "That helped a lot to get to know each guy better (which) helped a lot on and off the golf course."
Evangelio said that feeling of family went beyond just the golf team, spreading to the Marquette community as a whole.
"At least for me, in other places besides Marquette like back at home or even outside Marquette (in the U.S.) people look for (themselves) individually and try to do whatever (they) need for (themselves) but here, most of the people try to help who is next to you even if you don't know (each other)," Evangelio said.  
Bailey said that family dynamic all comes down to the culture he has tried to build in his program.
"Success is a byproduct of doing things the right way in all areas of our lives and so the culture is paramount," Bailey said. "And that family atmosphere is something that has come by having guys that are all working towards the same goal."
According to Bailey, now that Evangelio has had time to adjust, he is playing some of his best golf at Marquette. After averaging 74.56 strokes per round in his first year with the Golden Eagles, Evangelio has dropped it by a full stroke to 73.50.
Then on March 14 and 15 during the Bash at the Beach golf tournament in Myrtle Beach, South Carolina, Evangelio shot a Marquette career best 63 in the third round.
"This past week was a good indicator on (that) all his effort and hard work is paying off," Bailey said. "He's put a lot of time into those habits and just doing that complete analysis of our game and find those areas you might be lagging behind a little bit and create drills that are going to all him to improve those areas."
While the process was difficult for Evangelio to get here, he said the results really came through for him.
"Maybe you don't have as much free time, I think that it was a really cool process and I think it really paid off if I look back right now and I would recommend other kids that are in a similar situation to me to do the same, I think it's a great opportunity to be here," Evangelio said.
This story was written by Jackson Gross. He can be reached at [email protected] or on Twitter on @JacksonGrossMU.
Leave a Comment
About the Contributor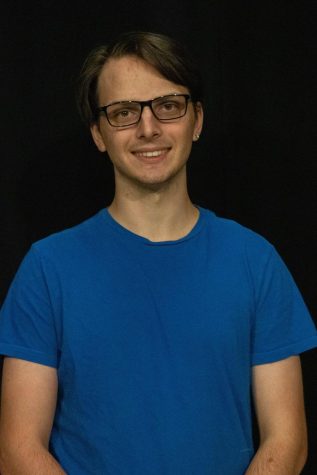 Jackson Gross, MUR Sports Audio Producer
Jackson is the MUR Sports Audio Producer at the Wire. He is a senior from Wheeling, IL studying journalism and minoring in digital media.

In his free...