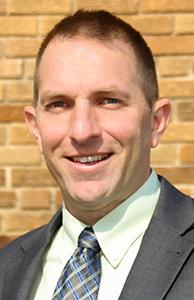 The university hired Marquette alumnus Ian Gonzalez, a certified public accountant and chartered financial analyst, as the new vice president for finance this past month.
Gonzalez graduated from the College of Business Administration in 2002 with a bachelor's degree in accounting.
Chief operating officer Joel Pogodzinski, who held a major role in the decision to hire Gonzalez, said there were more than 150 applicants for the position after the search began in February. The search committee then narrowed the candidate pool and interviewed 13 semifinalists, from whom the finalists emerged.
Pogodzinski said there was a comprehensive Opportunity and Challenge Profile for the position, which laid out required and desired qualifications. 
"In short, we sought a strategic problem-solver with deep financial leadership experience who demonstrates a commitment to Marquette's mission, vision and values," Pogodzinski said. 
From 2003-2010, Gonzalez worked as a senior auditor in various roles with the accounting firm KPMG, according to university news release. In 2010, Gonzalez moved to Briggs & Stratton as a corporate controller.
Gonzalez also held a number of leadership positions during his time at Briggs & Stratton, according to the release. This is what made him a "key finance partner in developing and executing the manufacturing company's long-range strategic plan, while leading the finance functions for the company's Corporate and Global Engine business units."
According to the release, Gonzalez also served for eight years as secretary of the Briggs & Stratton Pension Plan Investment Committee.
In his most recent role, Gonzalez was an active member of Marquette's Business Administration Alumni Association Board as well as the Career Awareness Committee. 
"While a candidate's status as an alumnus does not guarantee an advantage, that Ian did receive a Marquette education in our Catholic, Jesuit tradition and that he has served in a variety of alumni volunteer capacities shows that he understands and appreciates Marquette's mission — something we ask of all members of our community," Pogodzinski said. "That, coupled with his obvious commitment to Marquette's mission as evidenced by his deep involvement and engagement as an alumnus, made him the ideal candidate."
Xavier Cole, vice president of student affairs and chair of the search committee, said he believes Gonzalez will contribute to the university through his financial experience.
"Mr. Gonzalez has remained engaged with Marquette as an active alumni and cares a great deal about the current and future flourishing of our University. We welcome him to our Marquette leadership team and look forward to his contributions," Cole said.
Gonzalez said he is pleased to return to campus and honored to join the university as vice president for finance.
"As an alumnus, it means a great deal to me to join the university and have the ability to work with Marquette's many stakeholders to promote its mission and values," he said.
Gonzalez will officially begin his new role Nov. 11.