Volleyball falls to BIG EAST rival No. 10 Creighton at home
Marquette volleyball looked to avenge its sweep to No. 10 Creighton at the Al McGuire Center Friday night, but did not do much better in the rematch against the Bluejays, falling in four sets (25-20, 25-23, 22-25, 25-19).
"We made some plays better than the last time we played them," head coach Ryan Theis said. "They went on both sides of the ball … They out-defended and out-attacked us."
Marquette went down 8-6 early, but the Golden Eagles rallied back for a 15-14 lead. The set was tied 11 times, and there were three lead changes before Creighton won the set 25-20. Bluejays outside hitter Jaali Winters led Creighton with nine kills.
In the first set, Marquette hit a combined 0.130 clip, having 13 kills while committing of seven errors. Meanwhile, the Bluejays doubled the Golden Eagles' hitting percentage, posting a collective 0.311. They had 17 kills and only three errors. Marquette junior Allie Barber led the Golden Eagles with five kills in the set.
"Creighton's hitters do a really good job of moving the ball around and testing every gap on the floor," Theis said. "The easier solution is once we dig one, just kill the next one."
Creighton captured a 9-4 lead in the second set, but a service ace from Marquette redshirt senior Jenna Rosenthal and crucial block from sophomore Elizabeth Orf and junior Madeline Mosher put the Golden Eagles within one at 11-10. A block from Rosenthal and Mosher later in the set gave Marquette a 23-22 lead, but Creighton scored the next three points to secure a 25-23 set win. Senior Anna Haak hit a significant milestone during the second set, reaching 1,000 combined career kills at Marquette and University of Miami.
The Golden Eagles drastically improved their attack to hitting a 0.333 clip, reducing their errors to three, but that did not compare Creighton's hitting percentage of 0.400.
In jeopardy of a sweep in the third set, Marquette had its biggest lead of the night taking a 10-6 advantage after two service aces from sophomore Hope Werch and kills from Haak and Werch. A 4-0 run helped Creighton tie the set at 22-22, but Marquette won the set 25-22 after a Theis timeout sparked the 3-0 run.
"We're at home, down 0-2 and coming back and getting in a five game screamer would be a memorable match," Theis said. "It's just a matter of trying to have some fun towards the comeback and that just sputtered in game four."
Marquette struggled in the fourth set, losing 25-19. Following kills from Barber and Rosenthal, the Golden Eagles brought the deficit back within one at 15-14, but the Bluejays held on to win the set and match.
Winters led Creighton with 25 kills and 19 digs. Taryn Kloth added 17 kills. Madelyn Cole had a match-high 55 assists.
Barber led Marquette with 22 kills. Haak posted 13 kills and 11 digs. Junior Lauren Speckman had a team-high 31 assists. Sophomore Martha Konovodoff finished with a match-high 21 digs.
No. 18 Marquette (19-5, 9-2 BIG EAST) hosts the Providence Friars (8-14, 2-9 BIG EAST) Saturday night. The game is slated for 6 p.m. Central time.
"Providence can find different ways to get kills," Theis said. "Ideally you're zone blocking … If you serve it well enough, the deception they do offensively gets limited."
Leave a Comment
About the Contributor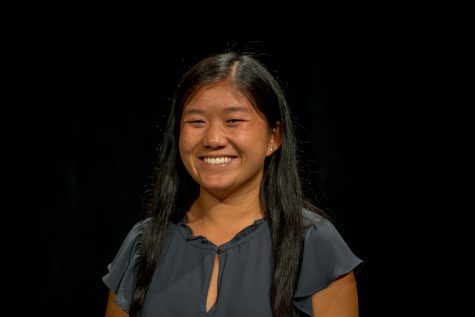 Zoe Comerford, Executive Sports Editor
Zoe Comerford is the Executive Sports Editor for the Marquette Wire. She is a senior from Naperville, Illinois, majoring in Journalism and Digital Media...