Recruiting: Q&A with recently-committed guard Dexter Akanno
Hang on for a minute...we're trying to find some more stories you might like.
Marquette is a step closer to completing its 2019 recruiting class after picking up a commitment from guard Dexter Akanno Thursday evening.
The 6-foot-4 guard from Blair Academy in Blairstown, New Jersey chose Marquette despite scholarship offers from Virginia Tech and New Mexico. 247Sports, a prominent college basketball recruiting site, does not rank Akanno. Here's what he told the Wire this weekend:
Q: How would you describe your game?
"I play defense. I need to work on my shooting, but I think as time goes on, I'm going to improve on that aspect of my game. For sure getting to the lane and then making decisions from there and playing defense."
Q: Where does Marquette see you fitting in?
"More so on the defensive side because I'm long. I'm 6-foot-4. I have like a 6-foot-8-and-a-half wingspan, so I'm going to be like their defensive guy in a way, and just like getting in the paint on offense. Kick out and make decisions once I get into the paint."
Q: What's your relationship like with Marquette associate head coach Stan Johnson?
"It's pretty good. He trusts me, and I trust him very well. He believes in me and my abilities. It's a good relationship."
Q: Was the chance to play with Markus Howard part of the pitch for you?
"Yeah, but also just everybody on the team. The freshman, Brendan Bailey, is a very good shooter. We have other spot-up guys I can kick out to and that I can play alongside … playing with a lot of those guys is really going to complement my game."
Q: What made you choose Marquette?
"Just opportunities. I asked for God to give me the easiest option. Marquette was just the option. They treat their players well. I have a good opportunity to play a lot right away. They're known for playing freshmen good minutes, so that's the main reason."
Q: What was your official visit like?
"It was great. They just showed me everything that they have to offer. They showed me why I could fit into their offense and defense and how I could contribute to the team."
Q: What did you think of the Fiserv Forum?
"It was insane … that was my first time being inside an NBA arena too, so it was pretty cool."
Q: Did the new arena play a part in your decision?
"I'm really just looking for the opportunity, so if it was an old-school arena and it was the right opportunity, I would go there. Marquette was just the right opportunity."
Q: Is there anything particularly unique about you that most people don't know?
"Not really. I'm kind of a quiet guy, I'm a low-key guy. I pretty much just play basketball, go to school and hang out with my friends. I'm not too loud, even on social media."

About the Writer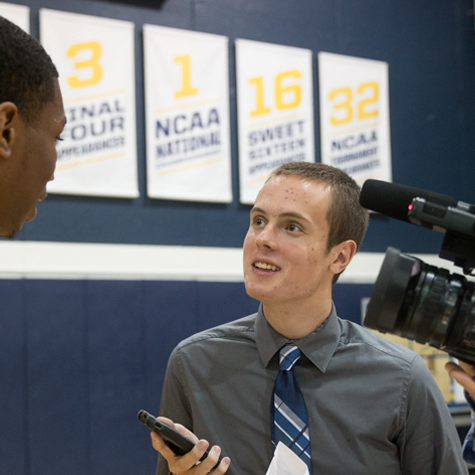 John Steppe, Executive Sports Editor
John Steppe is the executive sports editor for the Marquette Wire. He is a junior majoring in journalism and double-minoring in digital media and Spanish....