Marquette University's current home for the Physicians Assistant Studies program was meant to be temporary, but that was 20 years ago.
A new $18.5 million facility is underway on the intersection of W. Clybourn and N. 18th Street, beginning construction as part of the campus master plan.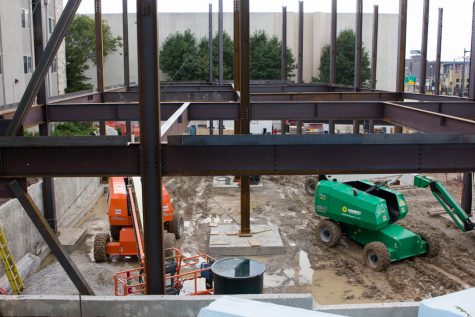 The current building, located on the northwest corner of N. 17th and W. Wells streets, is subject to potential removal, said Lora Strigens, vice president of planning and strategy for the university, at Aug. 22 press conference.
"We may try to do some renovations, but given all the maintenance on it, it's a likely candidate for redevelopment on that site."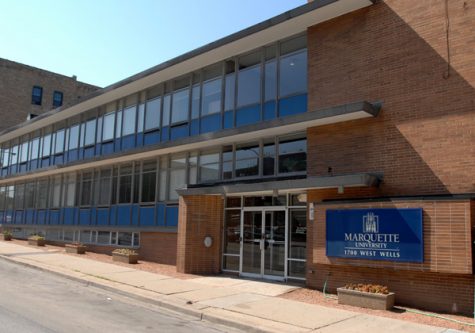 Photo by Andrew Himmelberg
The new structure is a key component of Marquette's campus master plan.This plan integrates financial, academic, and physical goals for the next 10 to 20 years.
Strigens said the master plan's concept is for community building and student experience.
"One of our most successful programs in the College of Arts & Sciences is getting a new home," Strigens said. 
Joshua Knox, a clinical assistant professor in P.A. studies, said several sites were assessed for the new location during planning, noting advantages and disadvantages for each.
"(The new location is) in close proximity to the other College of Health Sciences programs, the Dental School and the College of Nursing, which will aid in inter-professional collaboration," Knox said. 
Knox said the university is still evaluating future plans for the current building.
MaryJo Wiemiller, a clinical associate professor in physician assistant studies, said the new facility, with improved teaching technology and optimized capacity, will add to the program's stature.
"The P.A. program is an established national leader in P.A. education with 100 percent pass rates on the national board for over 10 years running and has a stellar national reputation in the health care community for producing highly-skilled P.A.s," Wiemiller said. 
Wiemiller added that the new building will cater to the high demand of the program.
The 44,000-square-foot building will house a theater style lecture hall and a second-story classroom, which will allow the incorporation of active learning for both first and second-year students.
A simulation center where students can practice authentic hands-on health care experiences and get immediate feedback from the faculty will also be included. The facility plans on having 19 clinical exam rooms for student assessments of practical clinical skills, as well as a large open classroom and teaching space for practicing physical exam skills. Students will receive upgraded study spaces and a larger lounge room, Wiemiller and Knox said. 
"The current location for Marquette's P.A. school seems secluded from other academic buildings," said Marcus La Porta, a senior in the College of Health Sciences. La Porta said he is looking forward to changes Marquette has to offer and would love to get into their PA program.
Marquette offers undergraduate juniors and seniors an accelerated track into the professional phase of the Physician's Assistant  program. Half of the students in the P.A. program enter from that path, Wiemiller said. 
Hannah Jones, junior in the College of Health Sciences and first-year P.A. student in the P.A. program, said she is looking forward to a transition into a new building.
"I feel that the location is beneficial for me because it's close to some of the other classes I'm required to take for the program," she said.
According to the new physician assistant studies program expansion website, Marquette is becoming increasingly in demand for P.A.s.  The site states that the Physician Assistant program received over 1000+ applications for the 55 open seats in the latest program. The program is expected to grow from 55 to 75 students starting in fall 2019.