Rowsey breaks records, says a final goodbye to Marquette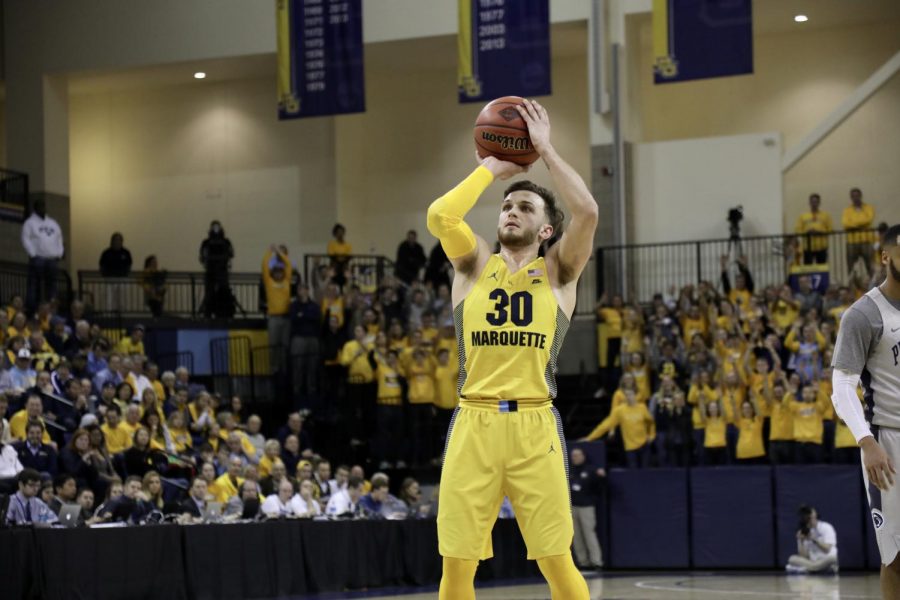 After the final horn sounded on Marquette's season-ending 85-80 defeat against Penn State, the gold-clad student section stood up in unison for one final chant.
"Thank you, Rowsey," the Marquette fans chanted melodiously, "Thank you, Rowsey."
Rowsey briefly acknowledged them with a wave of his hand. As he walked toward the tunnel, he pulled the shooting sleeve off his right arm and tossed it into the crowd before disappearing from view.
It was a gesture befitting his last act in a Golden Eagle uniform. For 39 of the game's 40 minutes, Rowsey dribbled, dodged, pump faked and shot his way around a Penn State defense hell-bent on stopping him. For head coach Steve Wojciechowski, there was no other way his career could have ended.
"I thought Andrew had a really good season and he's had a really good two years at Marquette," Wojo said. "Our program is not in the position it is to really to take off without Andrew."
In the process, Rowsey broke two Marquette single season records that have stood for over a decade. The first one to fall was Steve Novak's mark of 121 made 3-pointers in a single season. Right before the end of the second half, Rowsey dribbled forward with Penn State's Shep Garner on his back. A screen from teammate Theo John picked Garner off just in time for Rowsey to launch a deep, straightaway trey while falling down.
Novak watched from the front row of the court's opposite side. When it fell, he cheered without a single bit of regret about his record being broken.
"There was never a question that my record was going to be broken; it was a matter of how many times," Novak said. "The way (Rowsey) was making shots, I loved watching him the whole time he was here."
Even though Novak held the record since the 2005-'06 season, he didn't even know it was in danger of being broken until seeing it on Twitter earlier today.
"I'm just so happy to see the game go the way it was because it kind of validates the way I've always played," Novak said. "Rowsey broke it this year, but there are going to be so many guys after him that break it as well."
Unlike Novak, the second record-holder wasn't in the building to see Rowsey surpass him. With 2:39 remaining and his team down seven, Rowsey pump-faked from beyond the 3-point line as he has so many times this season. He drew Penn State's Lamar Stevens into the air, leaned into him and flicked up a shot with his left hand. The crowd swelled even before the referee blew his whistle to award Rowsey three foul shots.
With his second made free throw, Rowsey tied Miami Heat shooting guard Dwyane Wade's program record for most points scored in a season with 710. With his final free throw, he broke it. Wade's record had stood since he led the Golden Eagles to the Final Four in 2003. By night's end, Rowsey had surpassed it with a 29 point performance on 8-of-15 shooting, including 6-of-11 from beyond the arc and 7-of-9 from the free throw line. He also notched eight assists.
It was the continuation of a hot streak that stretched back to the Feb. 26 regular season road win against Georgetown. Over the last seven games, Rowsey averaged 24.9 points per game and 6.6 assists per game.
"You saw a guy who was playing like he didn't want his career to be over with," Wojo said. "You want to have that from the very start. That's how good teams and good players approach the college basketball season."
Unfortunately for Rowsey, his main weakness also manifested itself: an inability to guard physical, driving perimeter players. Immediately after his record-breaking free throws, he got stuck guarding Penn State power forward Lamar Stevens on a bad switch. Despite staying in Stevens' pocket for most of the time he had the ball, Rowsey was completely unable to stop the Penn State power forward's driving jumper to put the Nittany Lions back up by eight.
Sophomore Markus Howard, Rowsey's most frequent backcourt partner and a prolific shooter in his own right, sat dejected at his locker after the game. The season being over meant his time with Rowsey had come to an end too.
"He's going to go down as one of the best ever to play here at Marquette," Howard said. "I'm just fortunate I was able to play with him for two years."
Going forward, Wojo doesn't anticipate his relationship with Rowsey will end. Instead, he simply expects it to change form.
"I'm not going to say goodbye to him," Wojo said. "Andrew will always be a part of my life and I believe I'll always be a part of his. One chapter closed and that's the player-coach relationship, but we'll start the next chapter. I'm here to help him as he moves on to a professional career."
It seems everyone was willing to talk about Rowsey's big night except Rowsey himself. When he approached the scrum of media members in the locker room after the game, tears were welling in his eyes. Kaitlyn Sharkey of WITI-TV asked Rowsey what was going through his head as fans chanted his name in appreciation.
Rowsey turned back to his locker, away from the pack assembled in front of his locker room. "I can't do this," he mumbled under a faint sniffle. He turned toward the bathroom and disappeared from view. The media lingered for a few minutes before it came clear that he wouldn't come out again.
On a night when Rowsey was too emotional to speak, his play did the talking one last time.