Surveyed students respond to tobacco-free policy
 The majority of students said Marquette's change to a tobacco-free campus has not affected them or the amount of smokers they see on campus, according to a climate survey by the medical clinic in November.
The tobacco-free policy, implemented in August 2017, bans the use of all tobacco products on university-owned grounds. The provisions do not extend to state-owned property such as Wisconsin Avenue and adjoining sidewalks.
The Student Health Advisory Board received 230 responses from students in its recent survey, exceeding its goal of 100. About 79 percent of respondents said they were aware Marquette is a tobacco-free campus prior to taking the survey.
When asked whether or not they were smokers, 91 percent of student respondents said they were not. Christian Wallace, SHAB outreach chair, said this number may not be accurate due to the rise of e-cigarettes.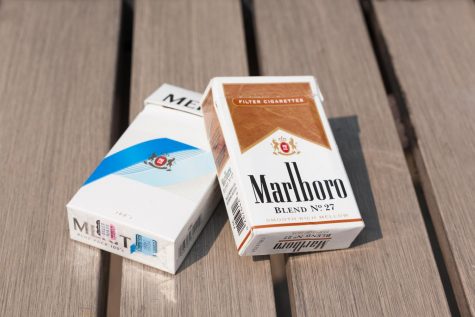 Sixty-three percent of students surveyed said they were fully supportive of the change to make Marquette's campus tobacco-free. About 12 percent were neutral and about 5 percent were fully opposed.
"We think this is a great step toward creating and maintaining an environment that promotes health and healthy behavior for our students, faculty, staff and campus visitors," university spokesperson Chris Jenkins said in an email.
Jenkins said the university's focus has shifted to creating additional awareness about the policy this semester.
Last semester, SHAB worked through Marquette University Student Government for promotional purposes, creating a logo and working with facility services to get signs that read "this building is tobacco-free" taken down because the signs implied that other campus areas were acceptable for smoking.
The university received a grant from the American Cancer Society and the CVS Health Foundation at the beginning of last semester as a part of the ACS Tobacco-Free Generation Campus Initiative. Part of the grant has been going toward cessation kits for individuals who wish to stop smoking. SHAB hopes to put the kits in various buildings, like the Alumni Memorial Union.
Through the survey, Wallace found that most surveyed students who were unaware of the tobacco-free policy were first-year students. Moving forward, Wallace said SHAB will push to have the policy promoted through Guidebook, an app used at SPARK and freshmen orientation. 
"Step one was, 'how do we get our newer students aware of the policy change?' So we're trying to get it into tour guide admissions," Wallace said. "It will be in the admissions packet and (new students) will be mailed their policy sheet. We figured there's no better way to inform them than before they get to campus."
Lucy Roudebush, a senior in the College of Health Sciences, said she is not convinced the policy will work in the long-run.
"As college students, it's easy to fall victim to tobacco use," Roudebush said. "I think the tobacco-free initiative is a great start to stopping tobacco use around Marquette, but I'm not sure if it will have a big effect on students' off-campus tobacco use."
Leave a Comment