Martin's late surge helps Butler come back against Marquette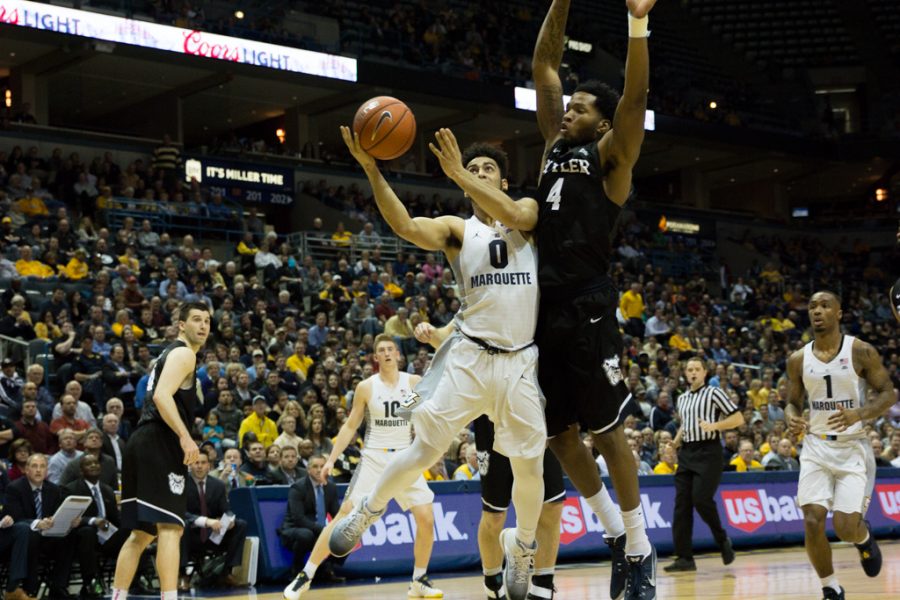 Marquette was 10 minutes away from winning its first game at Hinkle Fieldhouse in the new BIG EAST era. The Golden Eagles had a 67-60 lead and had all the momentum, benefitting from a 9-0 run.
Then Butler head coach LaVall Jordan called a 30-second timeout and had one simple message: "stay solid."
And the Bulldogs responded, scoring 34 points in the final 10 minutes to outlast Marquette 94-83.
Kelan Martin led the charge with 20 points in the final 10 minutes to take the game out of reach. As soon as Marquette would make some progress, Martin or another member of Butler's experienced core would strike with another basket.
"Collectively as a group, Butler played with desperation and obviously they've had some outcomes recently that haven't gone in their favor," Marquette head coach Steve Wojciechowski said. "They reacted with great passion and urgency and connectivity, and our team didn't match that.
"And when you don't match that, especially against a team as well coached as Butler, you get punished for it," Wojo continued. "And we got punished for it."
Martin finished the night with a career high 37 points on 12-for-17 shooting. Martin's superb finish was part of Butler's overall domination in the post. The Bulldogs had a 60-28 advantage in the paint. Seventy-two percent of Butler's second half scoring came from in the lane.
"A lot of that has to do with how Butler played, but we played a part in that too," Wojo said. "For that, I am disappointed."
For Butler, it was just a matter of executing its gameplan.
"What we learned as the season's gone on is when we're attacking the paint, we are tougher to defend," Jordan said. "We settled (in previous games), we learned that big lesson in non-conference and some early games and now we have a good balance to it … That's something we have to do each and every night."
Butler also shut down BIG EAST leading scorer Markus Howard, keeping him scoreless until the second half.
"They made it really tough," Wojo said. "(Kamar Baldwin) did a great job individually and then their team had great floor awareness as well. And we probably missed him sometimes."
Fellow guard Andrew Rowsey, the conference's second-leading scorer entering play, finished with 17 points but did so on 3 for 11 shooting.
"It was just chasing them off the 3-point line," Baldwin said. "Make them take contested threes."
With Rowsey and Howard shut down, Marquette had to rely on sophomore wing Sam Hauser to get the team out of jams. Hauser matched his career high with 30 points on 11-for-17 shooting, including six 3-pointers. He also led the team in rebounding with six boards.
"They're paying a lot of attention to (Howard), so it opens up a lot of things for guys like me," Hauser said. "It gives a lot of other people opportunities."
Marquette took the lead for stretches throughout the night, but could not sustain its success, going several minutes without a field goal multiple times. In the final six minutes, Marquette made just one shot.
Meanwhile, Butler snapped a three-game losing streak. After upsetting No. 3 Villanova, Butler fell to No. 10 Xavier, No. 21 Seton Hall and No. 25 Creighton. Jordan attributed the end of the losing streak to a team meeting after the Creighton loss.
"I'm really proud of our guys, our team, just for responding," Jordan said. "We had a healthy conversation leading into this game obviously after dropping three in a row just about who we want to be, what our identity is and who this group is."
The Golden Eagles have not won at Hinkle Fieldhouse since both schools were part of the Midwest Collegiate Conference in 1990.
Marquette will return to the BMO Harris Bradley Center Monday to host DePaul. Marquette has three consecutive wins against the Blue Demons and have not lost by more than five points since 2005.
"There's no margin for error," Wojo said. "Unless you are in the wars and the battles night after night, you can't fully appreciate the level of competition in this league."