When freshman Alden Hodgdon applied to Marquette University, he thought the application process was selective until he saw the sudden jump in acceptance rates.
Marquette's acceptance rate increased 20 percentage points in the last four years. In 2012, the university admitted about 55 percent of applicants. As of 2017, the rate is 74 percent.
"I thought Marquette was more selective than 74 percent (acceptance)," Hodgdon, a freshman in the College of Business Administration, said. "That high of an acceptance rate hurts the caliber of the school in my opinion."
From an outsider's point of view, these numbers can be jarring. Marquette accepts a higher number of students, which makes it appear that it is easier to gain admission.
But as part of Marquette's Master Plan, the enrollment rate will increase. President Lovell said that over the next few years the university would have about 500 more undergraduates. This is, in part, to allow more students to enroll in Marquette's competitive programs.
"Some of our programs will have 2000 applicants for 80 spots," Lovell said at a news conference in August. "And those are very high-achieving students. We want to be able to try to offer more of them to get up here and come to Marquette. I think the Master Plan will help us grow the areas where we see tremendous demand."
Xavier Cole, vice president of student affairs, said the university hopes to enroll around 100 more undergraduates per year if possible and keep Marquette a highly-esteemed school.
"This year we came in a little over our anticipated target," Cole said in August. "What that says is Marquette is a very attractive product."
Marquette stopped encouraging applications from potential students they would deny, thus boosting the admissions rate. John Baworosky, vice provost of enrollment management, said the administration made this transition to better align with Marquette's Jesuit mission statement.
Two years ago, Marquette switched from generating a large pool of applicants to marketing toward a smaller group of prospective students with higher ACT or SAT scores, Provost Dan Myers said. Instead of sending emails and flyers to a larger number of students, the admissions office is sending these materials to students whose names the university bought from testing companies.
"This decision was not just made on a whim. We utilized consulting firms and many other experts and resources in order to ensure that this was the right choice for our school," Meyers said. "And we have other priorities other than acceptance rates, such as creating a more diverse campus and maintaining academic excellence."
Nathan Juarez, a freshman in the College of Business Administration, applied after Marquette switched the admission process, but he said he believes other students might be hesitant to pick Marquette over other schools with higher acceptance rates.
"People back home have been asking me about Marquette," Juarez said. "But the only thing they're questioning is why the acceptance rate is getting so high."
"I think that this makes Marquette seem less competitive to get into, and that might deter smarter students from wanting to apply," Hodgdon said.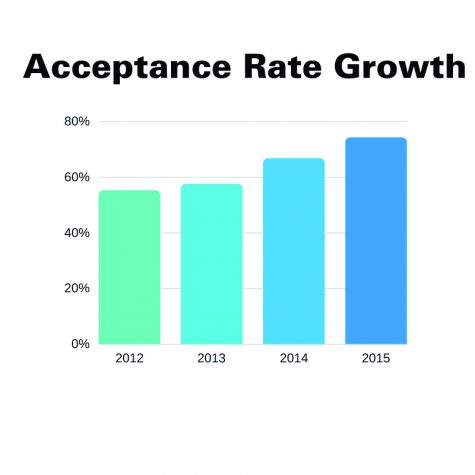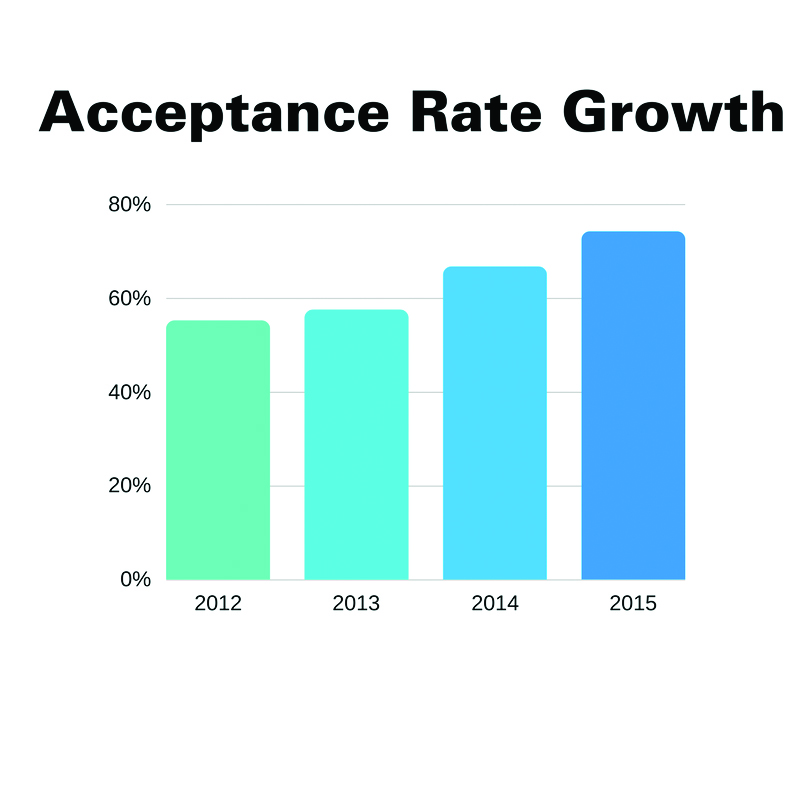 Photo by Hannah Feist
Sarah Nyhan, alumna from the Marquette class of 1989, said she is concerned this may damage the school's reputation. Nyhan said the previous admissions model was not unethical because it allowed the university to compete with other schools while also attracting bright students.
"Their increasing acceptance rate may catch up with them," she said. "I believe that (the previous admissions process) is not doing anything wrong or unethical, it is just a way to prevent negative consequences."
But the admissions process is not the only factor that influences which students apply. Jimmy Starke, a senior in the College of Arts & Sciences, sees this firsthand working as a tour guide.
"The questions I most often get asked concern the small class sizes, student to teacher ratio and resources of the school," Starke said. "If all of these factors remain strong, that's fine."
Starke also notes that from the perspective of a student, it is fairer to receive mail from schools willing to accept these students. It doesn't make sense for Marquette to market to students that they know they're going to deny, he said.
There can be benefits — besides those pertaining to the admissions rate — to reaching out to many students, he said.
"If the motivation is to simply get the admissions rate down, that isn't necessarily good," Emily Johnson, Marquette class of 2010, said. "But casting a wide net and reaching out to more students could increase diversity and allow more students information and access to Marquette."
Not all alumni see the increasing admittance rate as a problem either. Annie Darley, Class of 1989, said alumni still respect their alma mater, regardless of its rate of admission.
"The rate may deter some students, but there's more to statistics and we should take this with a grain of salt," Darley said.
Some university officials echoed that the numbers do not paint the entire picture.
"The ranking and acceptance rates are not indicators of a school's quality," Myers said. "The scores and quality of each incoming class continue to rise, and if (the administration) saw a problem or decrease in the quality of students, we would change course."
Despite the increasing rate of acceptance, there is an increase in the number of students who choose to attend Marquette. "The average GPAs and test scores of students has actually increased," Brian Troyer, dean of undergraduate admissions, said.
Troyer said this strategy, because it has increased the acceptance rate so rapidly, could have adverse effects in the long term even though it has not affected the test scores and GPA of students as of this year.
"This could potentially be negative in the long run, but we have seen no signs of this so far," Troyer said.
An earlier version of this story said Marquette's acceptance rate increased 20 percent in the last four years. It should have said it increased 20 percentage points. The actual percentage increase is 35.5 percent. The Marquette Wire regrets this error.