EDITORIAL: MUPD press release fails to paint clear picture of campus safety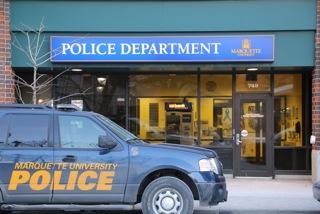 The Department of Public Safety made the transition to an official police department May 1, 2015, with goals of providing more efficient service and increasing safety on campus and in the surrounding area.
Early last week, the Marquette University Police Department claimed to have accomplished these goals. The department sent out a press release to various Milwaukee news organizations, including the Marquette Wire, highlighting a "significant reduction in crime" from the 2014-'15 school year to the 2015-'16 school year.
The press release listed three statistics to support the claim: 42 percent decrease in robberies, 62 percent decrease in battery/assault and 23 percent decrease in burglaries.
Accessibility of information should be equally as important to MUPD as efficiency and protection. These numbers are impressive, but they do not paint a clear enough picture.
Three bullet points are not enough to say that safety has increased here at Marquette. While news sources such as WISN and FOX 6 published stories based on MUPD's press release, the Marquette Wire found the information so lacking that our staff chose not to publish a report on the press release.
Crimes like sexual assault, drunk driving, criminal trespassing, disorderly conduct and vandalism are not included in this report, nor is any information about whether the criminals are students or other community members or if these crimes occurred on campus or in surrounding areas.
The vague and incomplete nature of the information provided shows that MUPD is picking and choosing which information it reports to students, their parents and the media. This gives the impression that the department's main priority is only to make us feel safer on campus, not actually make campus safer.
When it comes to our safety, ignorance is not bliss. Creating the feeling of safety among students is not a sufficient solution to our campus' crime problem.
When the department transitioned to a full police force, we placed our trust in its leaders, confident they would do right by the official title. The name "Marquette University Police Department" calmed worries and fears about crime here on campus. It was embraced.
That initial trust, however, is damaged when we feel we're being deceived.
During the transition in February 2015, MUPD Chief Paul Mascari told the Marquette Wire that the department would be able to provide better and more efficient service to the students, and said, "We need to make sure that we're out there communicating and being transparent."
As an official police force, MUPD has implemented Tasers, increased sexual assault training and initiated the process of getting body cameras. Its access to tools and procedures to protect us has grown, and therefore so must its transparency.
Of course, the department should continue to report its successes, but additional data must be provided in future press releases to support these numbers. Furthermore, MUPD should readily admit the areas it needs to improve on, laying out action plans of how to solve problems that still persist.
To hold our department accountable, we must realize that a less than 300-word press release is not an adequate analysis of MUPD's performance, and three vague statistics do not signal the end of Marquette's crime issue.
View Comments (2)