Impact Next competition gives students a chance to win funding for their businesses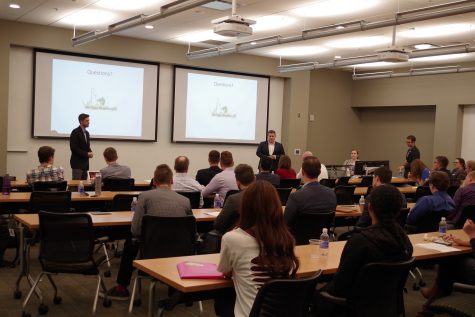 A light-up beer pong table, music queuing app and philanthropic clothing companies were among the entrepreneurial ideas pitched by Marquette students at last week's annual Impact Next competition.
The competition, hosted by the Kohler Center for Entrepreneurship, invites students from all majors to bring their business ideas and compete for three top prizes of $5,000, $2,500 and $1,000. Students spent time networking and then pitched their ideas before a panel of judges. Winners were awarded money to invest in their pitches.
This year's first place winner was QMusic, an app co-designed by Ryan Daulton, Sam Woods and Jeff Rueth – three seniors in the College of Business Administration.
"It's like a Yik Yak for songs," Daulton said about the app.
QMusic was created for use at bars, clubs, bowling alleys and the like, giving guests the opportunity to suggest songs and "upvote" them in an interactive queue for DJs to play. The pubs Caffrey's, Murphy's and Jack's will test out the app starting in June.
"There's a lot of possibilities, but right off the bat we'll go with bars," Daulton said. "In August, we're gonna try and go to as many (venues) as we can."
The second place winner was Hydroband, a wearable piece of technology shaped like a Fitbit or Apple Watch designed to help the elderly track their hydration levels. The idea was developed by Chris Adamczyk, a senior in the College of Engineering.
"The first step is to get this to work as a stand-alone system and we want to make it look like a watch so that the elderly don't feel like they're being monitored," Adamczyk said. 
Adamczyk envisions the device as something that could help a variety of elderly citizens, in addition to those prone to forgetfulness.
"These people grew up in a time where you have your orange juice in the morning and your afternoon coffee," Adamczyk said about the elderly. "You're not carrying water bottles everywhere or staying super hydrated."
The third place winner was 1783 Clothing, a company that partners with craftspeople on websites like Etsy to create unique clothing collections and donate 15 percent of the sales profits to organizations that help American war veterans.
Its creator Kristen Sale, a junior in the College of Business Administration, said she made major branding alterations to 1783 after realizing that her buying audience was too big. To do that she spent a lot of time receiving help in the Kohler Center.
"(There's been) lots of change, lots of hard work," Sale said. "But it's new and it's good and it's a lot better than it used to be. Rebranding was the best decision we've made."
Leave a Comment