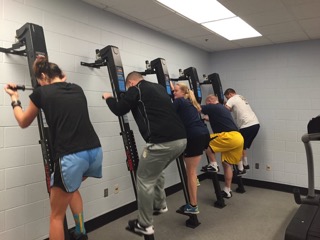 Members of the athletic department staff, alumni, student athletes and University President Michael Lovell are participating in the Mount Everest Challenge.
The challenge is a workout competition where participants climb 29,029 feet, the height of Mount Everest, in 29 days.
Todd Smith, director of sports performance, said he created the challenge and chose Mount Everest because it is the highest peak in the world.
About 20 participants used equipment called a VersaClimber, located in the Al McGuire Center weight room, to achieve the goal. Each person climbs on his or her own schedule, but groups will compete against each other to get the most steps.
Following a workout, individuals write their number of steps on a board to keep track of where they stand in the competition.
Lovell said although he actually dislikes the VersaClimber machine itself, the competition builds a sense of community, noting that there is always a new name and number of steps on the board.
"Todd (Smith) is always trying to get people engaged in friendly competition," Lovell said. "This one has been a lot of fun."
Previous challenges posed by Smith and the athletic department have included the "Monkey Hang," where participants try to hang onto a metal bar as long as possible and the 20-mile bike challenge, when challengers race 20 miles on a stationary bike in the same gear.
Sofie Schunk, former member of the Marquette women's soccer team, returned to the weight room to partake in the Everest challenge.
"I chose to participate in the challenge, as I have always had a fond bond with the people of the weight room and what their philosophy is – fun in fitness," Schunk said in an email. "But it's probably some of the toughest workouts out there. The work ethic amongst the staff never lacks and is usually at the forefront of ideas from Todd Smith and Lovell."
Schunk said it's been fun to meet other members of the athletic department staff, including Carolyn Kieger, head coach of the women's basketball team, who is also participating in the challenge.
"(Coach Kieger) was by far the one who helped me through the first 20,000 feet by having conversations while 'climbing' next to each other," Schunk said.
The 29,029-foot goal was already surpassed by Lovell, Schunk and many others. Lovell reached 50,000 feet this week, and he hopes to reach 100,000 feet by the end of this month.
"The athletic department is a very competitive place, so once someone challenges you, it's on," Smith said.
Along with encouraging competition, the Everest Challenge also poses great health benefits.
Christopher Simenz, associate professor of exercise science, said there are many assets to this challenge.
"Stair-climbing is a great combination of cardiovascular endurance exercise akin to running or aerobic stepping but also challenges climbers by way of muscular endurance, and in some cases muscular strength challenge," Simenz said.
Simenz said studies show that climbing stairs, even in small doses, increases cardiorespiratory fitness, reduces LDL cholesterol, increases HDL (good) cholesterol and reduces resting heart rate.
Robert Fitts, chair and professor of biological sciences, said exercises like this challenge should be regular in order for the benefits to be realized and avoid injury. He suggested that those considering this type of challenge use a Fitbit, or similar apparatus, to provide a record of their accomplishment.
Schunk said although she is moving to California at the end of this week for a new job, she plans to continue the challenge across the country.
"I entered the competition as my final 'farewell' to the staff and weight room," Schunk said. "It has been hard saying bye, but what better way to do it with an awesome reason to go in to the weight room and climb everyday with those that had a huge part of my success at Marquette?"
Story continues below advertisement