College of Professional Studies dean to leave Marquette after semester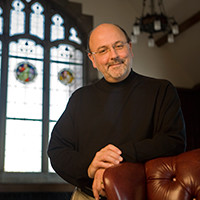 Weeks before a Board of Trustees vote on Provost Daniel Myers' proposal to phase out the College of Professional Studies, the college's dean, Robert Deahl, announced that he will leave the university at the end of summer.
Deahl is leaving after 22 years at Marquette, according to a university news brief released Thursday.
"Dr. Deahl has been a respected leader and a passionate advocate for adult learning and community leadership (…) and we as a university have been better for it," Myers said in the news brief. "While we're changing the space in which we deliver adult education, Dr. Deahl's mark on those programs is unquestionable."
Myers and Deahl announced a proposal in Aug. 2015 to phase out the College of Professional Studies' operations and shift degree programs to the College of Arts & Sciences and the College of Communication. The board of trustees will vote on the measure at its February meeting.
Deahl said he will remain involved with the Milwaukee community and plans to write a book on reflective practices and leadership excellence.
Deahl was hired at the university in 1994 to help launch the first undergraduate degree program for nontraditional adult students. He was named dean when the College of Professional Studies was inaugurated 20 years ago.
Leave a Comment