Big men on campus: Three-man rotation poses serious matchup nightmare
Combo of Ellenson and Fischer the backbone of starting roster
The era of small ball at Marquette is over. Head coach Steve Wojciechowski, with a bit of help from former coach Buzz Williams, has assembled one of the top frontcourts in the country.
The crown jewel of that frontcourt is freshman Henry Ellenson, ESPN's No. 5 recruit in the 2015 class and the highest-ranked Marquette recruit since Doc Rivers in 1980. The 6-foot-10 power forward from Rice Lake can do it all. He's powerful in the paint, slamming down dunks like the ones that earned him the dunk contest title at this year's Marquette Madness. He can shoot the midrange, forcing defenders to stay on their toes if he gets away from the basket. He can even bring the ball up in transition like a point guard if you need him to.
"He's got the talent and the ability to be as good as anyone in the country," Wojciechowski said.
"Honestly I believe he's a top-five pick in this year's draft," junior guard Duane Wilson said. "His versatility, you don't see that every day. I don't know the last time you've seen someone that's (6-foot-10) that can dribble, shoot, that's athletic, that can post up. That's hard to come by. He's got a real talent."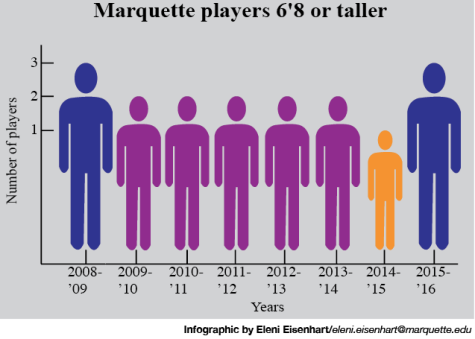 In the paint, Ellenson joins redshirt junior Luke Fischer, who played his first full season at Marquette last season following his transfer from Indiana. Fischer was also highly touted, ranking 34th in the country by ESPN and fourth among centers in 2013. Both he and Ellenson were the top-ranked Wisconsin recruits in their respective classes.
"I feel like we have a really close bond," Ellenson said. "For me and Luke, we have to be best friends on the court. We have to be able to work with each other and be a force."
The pairing puts Marquette's opponents in a treacherous situation. Do they double-team Ellenson or Fischer? How can you possibly game-plan for two players who are nearly seven feet tall?
"Having him on the floor is going to help the whole offense be able to move the ball more easily," Fischer said. "He's such a dynamic player that if he's in the paint, they're going to be focused on him in the paint. If he's outside, they're going to be focused on him outside. He's going to move the defense around and help everyone out."
"You have to double-team," Wilson said. "If you play them one-on-one, then one of them is going to get 30 points. That's something you probably don't want to do."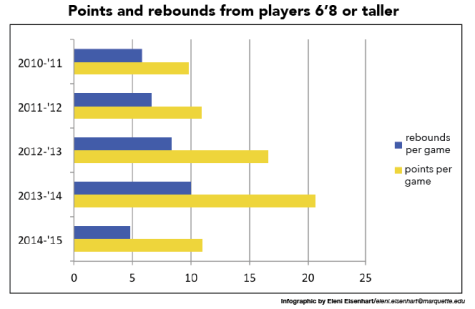 Playing with multiple talented big men opens up space for the guards outside, something Wilson noticed was very effective during the team's Italy trip.
"Coach is always on us to hit it to the post and see what happens," Wilson said. "Our post is very unselfish. Luke can pass. Henry can pass. You keep on pounding it into the post, that's going to open up jump shots and open lanes for the guards. It's going to be hard for teams to guard us."
Opening up the floor will be vital for the Golden Eagles, who were last in the BIG EAST in points per game last season. Distracting opposing teams with the big men will put less pressure on some of the team's young guards, including freshmen Traci Carter and Haanif Cheatham.
"They're going to see you cutting and filling in the slots, but when they get the ball down low they have a chance against anybody to score the ball," Cheatham said.
The offense may be the flashy part of their game, but the one-two punch should improve a defense that finished around the middle of the conference in points allowed and ninth in defensive rebounds. The added size also allows Wojciechowski to play more man-to-man defense.
"Our size and length across the board is better … Those two guys, as they continue to learn to play together can be a very dangerous combination," Wojciechowski said. "In today's day and age, in college basketball there aren't many teams that have guys approaching seven feet that can play together."
The Golden Eagles will also have nice insurance off the bench in freshman Matt Heldt. Ranked the No. 23 center in this year's class by ESPN, he allows Marquette to have a multi-faceted big man rotation for the first time in years. He said his role this year will be to get rebounds and play solid defense while the other two big men get time to rest up on the bench. It's the sort of luxury not many teams get in college basketball.
"I've obviously always been the tallest guy on the team; being able to play with other 6-foot-10, 6-foot-11 guys, that's huge," Ellenson said. "I can be able to do the stuff I want to do on the perimeter. They attract the defense with their height so it gives me mismatches in the post."
While the trio will surely face smaller bigs throughout the season, the practice against each other will help prepare them for BIG EAST matchups against bigger lineups like Georgetown, Xavier and Seton Hall.
"We make each other better every day," Heldt said. "I think, all three of us, our physicality has increased and our awareness and being able to score against guys our height."