Five breakfast rules that are completely arbitrary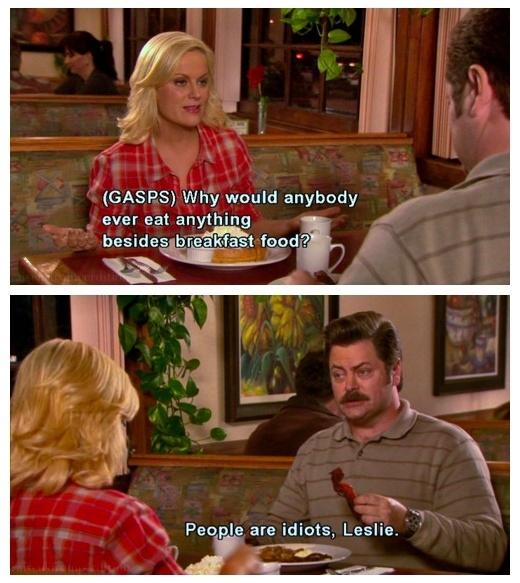 Reese's for breakfast? Of course not. Although Reese's Puffs (and all other cereals) are always accepted as part of a balanced breakfast, candy never is. You don't need to see the commercial to know that.
Though we never explicitly learn the distinction between breakfast and non-breakfast foods, we all understand it somehow. Have you ever stopped to wonder what makes certain foods breakfast appropriate? It sounds obvious, but when you really think about it, the rules are inconsistent.
Dessert for breakfast is totally cool.
You won't find candy, cake or cookies on any breakfast menu, and thinking about eating them first thing in the morning sounds pretty gross. But can someone please explain to me how doughnuts don't fall into that category? They are circular portions of frosted cake, and yet they are an undeniable breakfast food. Even if you could come up with a reason that doughnuts aren't dessert, how would you explain the fact that you can only eat them for breakfast but not lunch or dinner?
Eggs after noon are prohibited.
Versatile and rich in protein, eggs are a breakfast staple, but we mysteriously discount their nutritional value once lunchtime rolls around. I love eggs for lunch or dinner because they're cheap, delicious and easy to prepare, but my non-breakfast omelets are often met with looks of disapproval from rigid breakfast rule followers. I would gladly limit my egg consumption to morning only if someone offers me a good reason to do so.
Only certain meats meet the criteria.
No one questions the standard breakfast meats. Ham, bacon and sausage are more than acceptable – even steak and eggs are OK if you're looking for something extra hearty. However, pork chops and chicken breast are off-limit breakfast choices. We are literally only allowed to eat certain parts of the pig. And while chickens are off limits, their unfertilized eggs are fair game. What's the deal there?
Not all vegetables are created equal.
Any kind of fruit is a welcome breakfast addition, but only certain vegetables. Potatoes are the most popular (I prefer them in McDonald's hash brown form), and peppers, mushrooms, onions and tomatoes are all acceptable in scrambled eggs. However, I've never seen anyone have their morning cereal with a side of green beans or broccoli. I'm not saying I've had the urge to eat green beans at breakfast, but I don't understand why it would be so absurd if someone did.
Breakfast goes against some grains.

Carbs are an essential aspect of breakfast as they help give us energy to start the day, but apparently there is a time and place for each variety. Bread is welcome in any meal. Cereal is mainly reserved for the morning but permitted as a late-night snack. Oatmeal, waffles, pancakes and French toast are exclusively on the breakfast menu, while rice on the other hand, doesn't taste quite right until lunch? Makes sense…
I realize I just dropped a bombshell that's shaking the very foundations of your eating habits, but please try to remain calm. It is perfectly natural to become defensive when your long-held beliefs are brought into question and instinctively create justifications for your arbitrary meal distinctions.
Please understand that fear of the unknown, not facts, form the basis of the claims you'll make. Your taste buds do not undergo a daily transformation at 12 p.m. sharp, so don't try to tell me "some foods just don't taste good in the morning." Food tastes the same at any time of day, and it is your unalienable right to choose for yourself what you want to eat and when you want to eat it.
I hope you'll be inspired to liberate yourself from the oppression of arbitrary breakfast rules. If you find the courage to eat a non-traditional meal tomorrow morning, I promise it will have an extra flavor you can't quite distinguish. And that, my friends, is the taste of freedom.