Soccer heads to Xavier in must-win situation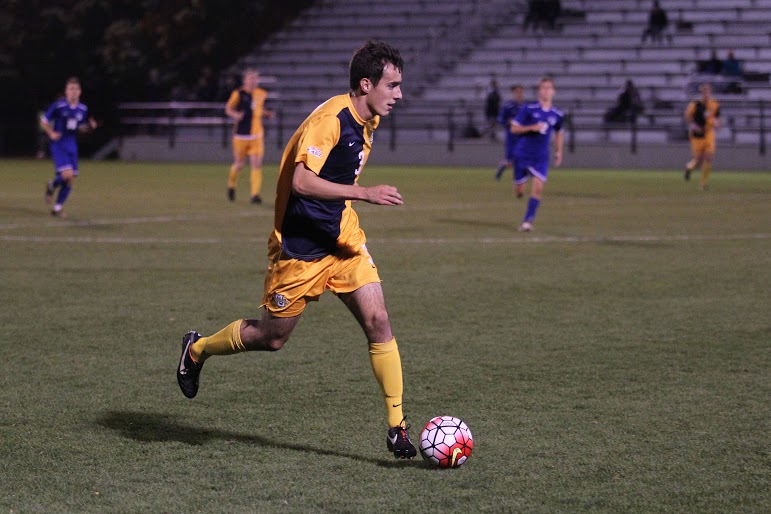 Jack Goods, jack.goods@mu.edu
October 24, 2015
Marquette heads to Xavier this weekend searching for points to stay in the BIG EAST Tournament race. Currently sitting ninth in the ten team conference, Bennett sees this game, as well as the final three, as must-win scenarios.
"This week we're looking for a very disciplined, very focused, very spirited performance," said Marquette head coach Louis Bennett. "Xavier is a really well organized team. They're a team that knows exactly who they are and how they are going to go about winning. We've got to be patient."
The Musketeers are allowing less than a goal a game (.846) and boast an impressive keeper in Dallas Jaye. In his eight starts he's posted three shutouts and leads the conference in goals against and save percentage. For the Golden Eagles to be successful, they'll need movement on the frontline and quick crisp passes.
"They are very good defensively," said redshirt senior forward C. Nortey. "We are going to have to take care of the ball better. When we get a chance to finish, we've got to take it because they don't let a lot of goals in."
The Musketeers ended a three-game winless streak last weekend with a victory against Villanova. It was a much needed confidence boost for a squad that drew St. John's 0-0 and lost to Providence 3-0 the previous two games.
"The win that they had the last game was inspirational for them because they were down with four minutes to go," Bennett said. "That will give them a lot of juice coming into this game."
The Golden Eagles are in a similar position as they were last year, needing wins late in the season to make the BIG EAST Tournament. All of the remaining opponents on the schedule are above Marquette on the table. Nortey says the experience from last season will come in handy during this year's run.
"For a lot of people this will be the most stressful time," Nortey said. "At the same time it's very exciting. We're all backed into a corner."
The game kicks off at 6 p.m. and can be viewed on the BIG EAST Digital Network. The game is the final extensive road trip for Marquette. Two of the final three games are at home, and the other is a day trip to DePaul.