Quidditch loses championship, still finds success
Team will host twelve teams in first ever home tournament on November 7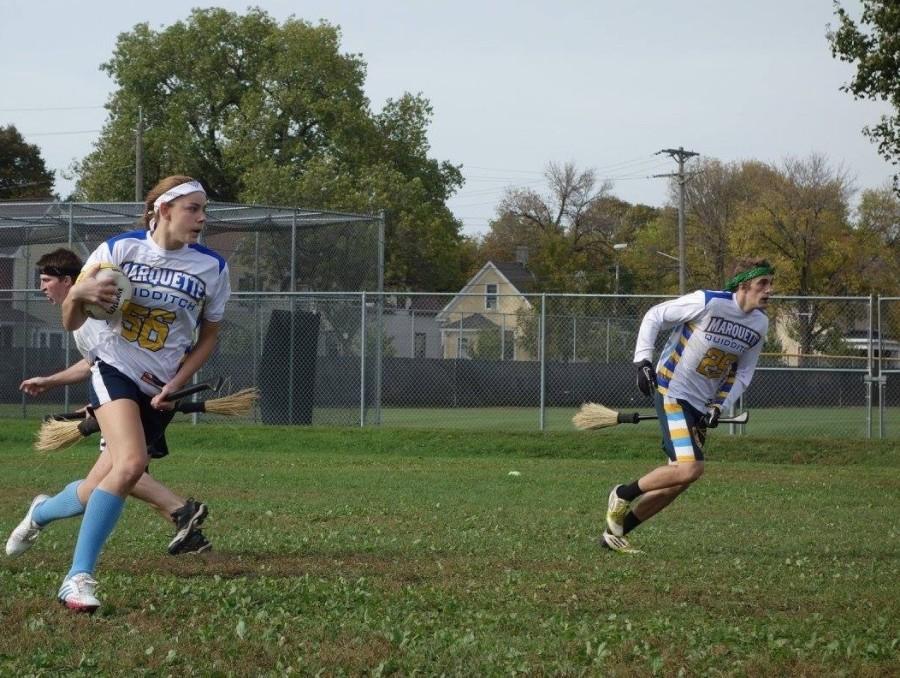 Robby Cowles, robert.cowles@marquette.edu
October 15, 2015
Last weekend club quidditch had what its members are calling its most successful tournament of the season at the Great Plains Invitational in Minneapolis, Minnesota.
The club's A-team went undefeated in pool play before losing in the championship final, while the B team went 0-3.
Junior captain Nathan Digmann was impressed by how well the team is coming together.
"(I) saw a lot of good things," he said. "Inexperienced people got a lot of good experience and did a lot of good things that we weren't really expecting so that made it a really good tournament," Digmann said. "We've had a lot of time where we've been working on strategy and things and I think this was the first time that people started to buy in, the first time it started to all come together."
The other junior captain, Matthew Angel, believes that the tournament was a big step forward for the team.
"I think it was that light bulb moment for some, where it's like, 'hey, this actually works!'" Angel said.
It was quidditch's second tournament, and coming together as a team over the rest of the fall season is a goal for club president and senior captain, Matthew Fiebig.
"Working together as a team, we have a lot of talented individual members, but trying to bring that all together as a team is what we've been working on," Fiebig said. "Expectations are high, which generally is what happens when we have a lot of seniors on the squad."
All three captains stressed senior leadership as key to the team's improvement. Fiebig, who is in his third year as club president and de facto coach, has more help this year than in years past.
"We have a lot more people stepping up into leadership roles," Fiebig said. "I can lead the team, I've been leading the team for a couple years, but its nice having juniors and seniors guiding the freshmen instead of just one person."
"We had a large core of people coming back and as a result, for the first time since we've been here, we were kind of able to take a step forward from last year instead of starting over again," Digmann said. "It's all these different people on the field leading simultaneously their different position group."
The season goal for quidditch is to qualify for nationals, something they have done the past four years, but have only been able to participate in twice because of lack of funding. This year, though, Fiebig is confident that they will be able to participate and plans on being there.
When asked what improvements the team needs to make in future tournaments, Angel didn't hesitate with an answer.
Angel is confident the squad needs to improve in future tournaments.
"Being disciplined," Angel said. "Valuing every little moment in the game, every possession. Knowing that every little moment can affect the game, you can lose by like one little goal and you realize that you had like three chances at scoring but you blew it, its about making every chance count."
On November 7th, 12 teams will travel to Milwaukee when Marquette hosts its first quidditch tournament in club history.