Club Quidditch to host inaugural tournament
MU will host eight schools in weekend showdown.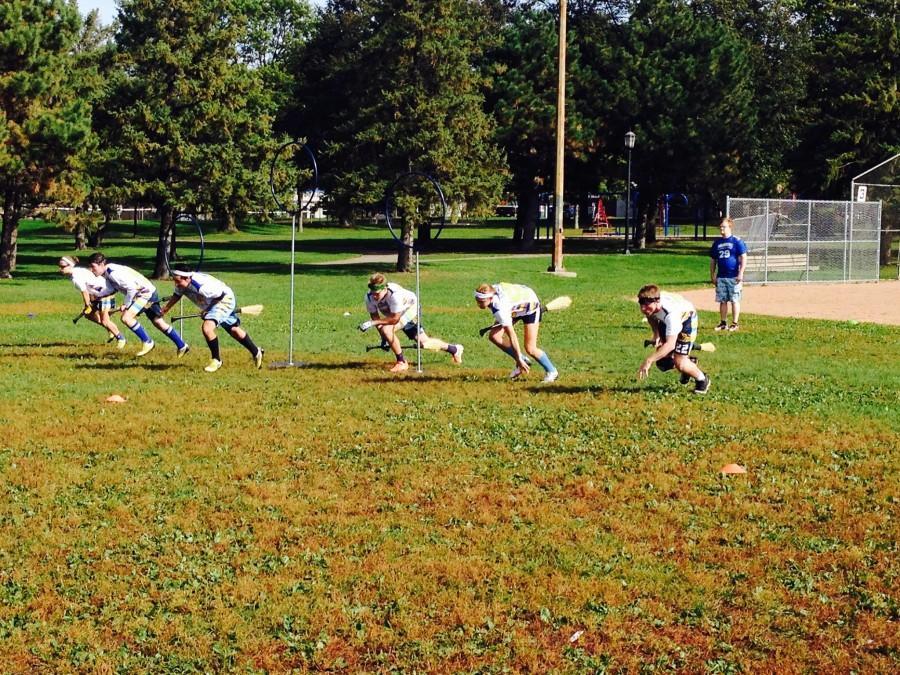 Robby Cowles, robert.cowles@mu.edu
November 5, 2015
Marquette Club Quidditch will host its first ever tournament this Saturday, Nov. 7, at Valley Fields. The Golden Eagles will host eight other schools from across the country, with matches on two fields all day. Pool play begins at 9 a.m. and the championship game will be at 6:45 p.m.
Marquette will first play at 9:45 a.m., with games to follow at 12, 12:45 and 2:15 p.m. before advancing into bracket play. Depending on the club's record in pool play and seed in bracket play, the club will need to win three or four games to be tournament champions.
Matthew Fiebig, senior captain, club president and de facto coach, believes the tournament is a huge step forward for club Quidditch. The club has attempted to host a tournament the past couple years, and Fiebig believes it will go a long way in improving the reputation of the club.
"(The tournament) gives us recognition in our region, especially if we can perform this tournament well, because there have been crappy tournaments we've attended," Fiebig said. "We're trying to make this a reoccurrence, and that's been emphasized. If we can show we're effective at running a tournament, more teams will want to come."
Junior captain Nathan Digmann was eager about getting a chance to play on Marquette soil.
"I think it's going to be exciting to potentially have a home crowd," Digmann said. "We've always gone to tournaments and regionals and stuff, and there's family members that come every once in a while, but I think it's going to be exciting and worthwhile to have a home crowd there."
While in previous tournaments the club would field two teams to give more players experience, this tournament will feature just one team, with the club condensing its 36-member roster down to 21 eligible players.
The captains said that choosing the roster was difficult, and while some players won't play, both captains think it will take a total team effort for the club to have success.
"There's always a little drama with (roster cuts), but we have to explain we're one team, we're here to win together, we're a team of 36, we have to all come together and all work together," Fiebig said. "Our ideology is that everybody is on the team, and we just have to take our best 21. We'd love to take all 36, but we're forced to take 21."
Digmann agreed. "The words I like to use are 'your time will come eventually,' because a lot of the people are underclassmen," he said.
With the condensed roster, the club hopes to have a championship showing in its inaugural tournament.
"We'd like to win it all," Fiebig said. "Hosting a tournament, everybody wants to show off for their home crowd, and I think this will be a good momentum going into regionals in a few weeks."