Position battles highlight men's lax fall scrimmage
MU will face Fairfield in only fall ball contest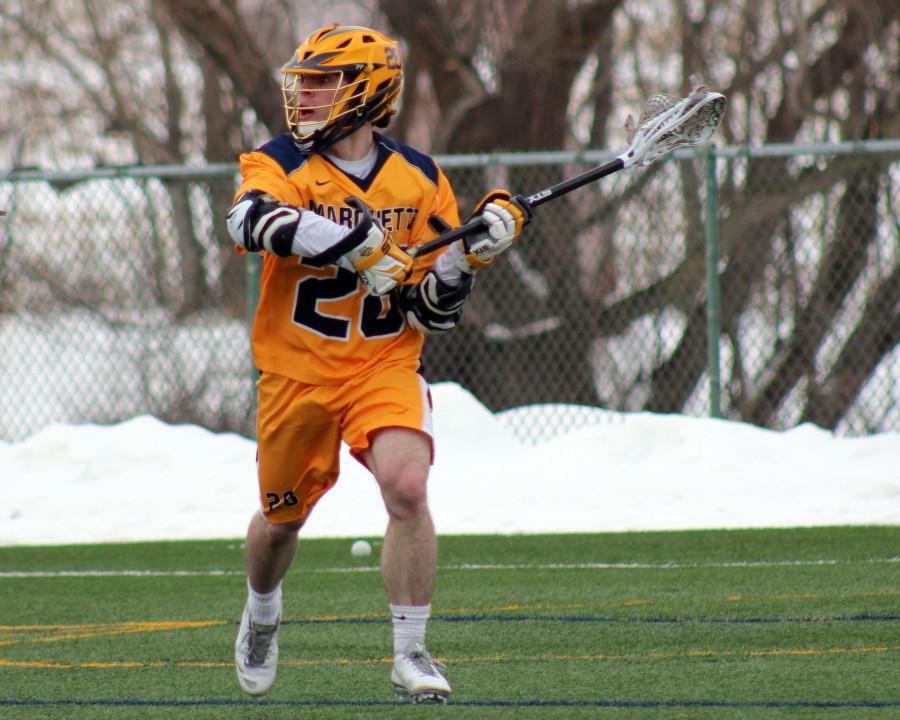 Jack Goods, jack.goods@mu.edu
October 15, 2015
Men's lacrosse will get its first action of the season this weekend when the Golden Eagles head to Connecticut to play the Fairfield Stags in its only scheduled fall ball game.
"We've almost taken that final step to see what it's like to compete at the highest level," head coach Joe Amplo said.
Fittingly, Marquette's biggest question mark heading into this season is finding someone to replace last year's leading scorer Jordan Greenfield, who is a former Stag. Amplo believes the team can rely on junior attackman Kyran Clarke, who scored 11 goals and dished 13 assists last season, to play a big role in the offense this season. The Marquette coach is interested to see what freshmen Josh Williamson and John Wagner will look like against amplified competition.
Wagner, a St. Davids, Ontario native, was ranked in the Top 200 players in the Class of 2015 by StudentSports, and was a three-time all-state selection. He had offers from Syracuse, Cornell and Brown.
Williamson played his high school ball at Redondo Union High in California, scoring 89 goals and 113 assists in his high school career. He was named an Adrenaline All-American and named to the conference's first team his senior year.
"Those guys have had their bright moments and their very freshman-like moments this fall, which is to be expected," Amplo said. "I'm really anxious to see what happens at that position."
The Golden Eagles will also have a new starting defenseman following Logan Tousaw's graduation. Redshirt senior B.J. Grill said he's seen sophomores Jordan McKenzie and Matt Lanza elevate their game thus far.
Despite those two spots being the clear holes on the team, Amplo says there are opportunities for players at multiple positions to get into the rotation.
"To be honest, there are starting spots open more than you think," Amplo said. "There's competition at a bunch of places. Sure, there are a few established guys that have been starters for us for a few years, but there are a majority of positions that are open to the taking for these guys."
Marquette will have two goalies – sophomore Cole Blazer and senior Matt Barone – split time in net on Sunday. Junior Jimmy Danaher, last year's starter, is currently out with an injury.
The Stags went 9-6 overall last season, but finished first in the Colonial Athletic Conference with a 4-1 record. Their coach, Andy Copelan, was named the conference's Coach of the Year. It was the first year Fairfield was in the conference since leaving the Eastern College Athletic Conference.
Fairfield lost its leading scorer from last year, Tristan Sperry, and third leading scorer Colin McLinden to graduation. Midfielder TJ Neubauer will be the man to watch for the Stags this season.
Grill said the game helps the fall season from dragging, giving the team something to look forward to. It is also a good test to see where the team is at after beginning practice together.
"I think (the practices have) definitely been more intense," Grill said. "The biggest thing is the speed of play and the intensity that we're approaching practice with every day. We have bigger expectations here than we've ever had."
The game will be held at Fairfield's Rafferty Stadium at 11 a.m. on Sunday.