MURPHY: Six lesser-appreciated reasons why fall is the best season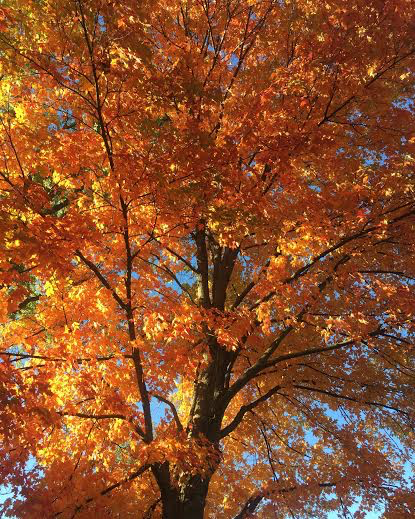 An Autumn Ode
By this time of year, you've probably read enough "reasons to love fall" articles to hate them as much as you actually love fall. I, too, have read the lists, and many of them fail to recognize that fall is about more than the pumpkin spice latte. Autumn is way bigger than that — it's like a cosmic apology for the upcoming winter. So here's a sample of some of the lesser-appreciated reasons that fall is the best season:
The first reason that autumn rocks your socks is socks. During the summer months, fashion and temperature often prevent people from wearing socks. Sure, sunshine and beaches are nice, but toenails (often the least-groomed body part) and foot stench are not. Fall keeps everything nasty down there locked up in a wool straitjacket — thank you, fall.
Sweaters are often raved about as a reason to love fall because of their comfort, and while this is not incorrect, it does overlook the more important reason that sweaters are so awesome. Sweaters are the populist clothing piece. If we're being painfully honest with ourselves, we must admit that it's a narrow segment of the population that can look really good in a swimsuit. The beauty of the sweater is that anyone can pull it off. Regular people, this season is for us.
Fall has the best holidays: Halloween, Thanksgiving and Margaret Thatcher's birthday (which should be celebrated with Reese's, gravy and scotch and soda, respectfully.) These holidays capture the fun and the food of Christmas without the pressure of gift-giving.
Speaking of Halloween, another reason to get excited for fall is the costumes. Even if you don't get excited about dressing up yourself, it is an unfeeling person who doesn't enjoy judging others' costumes. Seriously, people wear ridiculous things on Oct. 31, and if you can't find a way to take pleasure in being shocked at them, it's going to be a long day for you.
During fall, we remember the best way to eat fruit. Sure, a fruit salad on a summer's day is good and all, but we can all agree that a fruit pie is infinitely better.  And if you don't even like fruit that way, autumn's got you covered — you can just hollow it out and use it as a lamp.
Fall manages to bring out the philosopher in everyone with the same two debates each year. First there, is the Black Friday question. Is it really ethical to rush out of Thanksgiving dinner to go shopping? The sales start earlier and earlier each year! On the bright side, if the trend continues, eventually Black Friday will start on the Wednesday before Thanksgiving, and we won't have to have this debate anymore.

The other debate is even more polarizing and shows no signs of letting up. Candy corn: yay or nay.  Like politics or religion, you're asking for trouble if you bring it up at the dinner table.
So there you have it, six of the thousands of reasons to adore autumn. You could list more if you wanted, but your time would probably be better spent jumping into a pile of leaves or watching "Halloweentown."