Men's volleyball opens season against UW-Madison at Al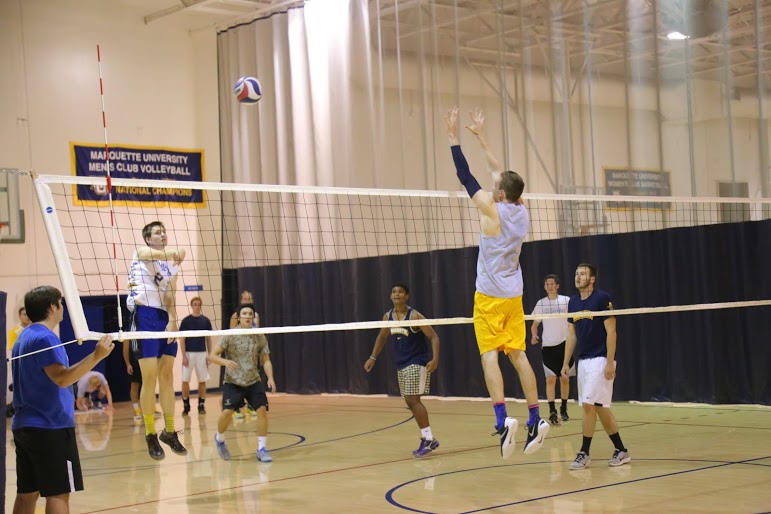 Robby Cowles, robert.cowles@marquette.edu
September 17, 2015
The Marquette men's volleyball club had one of its most successful campaigns in history last year, which culminated in an appearance at Nationals that placed them 17th in the country.
With expectations set fairly high before arriving on campus, the returning core received a pleasant surprise when school started.
"We had about 50 freshmen sign up this year at O-Fest," North said. "That's insane. Last year we had, like, 10."
Daniel Redd, the team's senior co-president and outside hitter, is entering his fifth year with the club, and is already sold on the high ceiling for the success of this year's squad.
"In previous seasons, we've had talent, but since I've been here, this is the most talent we've had by far," Redd said.
Redd also stressed the commitment they've already seen from this year's team over previous years. He raved about the returning players' focus over the summer.
"Before, it was just a club sport, just for having fun, so a lot of people came in unfit for the season," Redd said. "Now, we all came in with the understanding that you have to battle for a spot because this is one of the best men's club volleyball programs in the country."
Sophomore outside hitter Chandler North, who is the team's player-coach, said that commitment has extended into the school year.
"You'll see guys come in here as early as 6:30 (at night) to get loose and get reps in before practice at 8," North said. "And if the Rec Center wasn't kicking us out at 10, I'm sure we'd stay in here well past that."
The potential is clearly there, but for sophomore outside hitter Daniel Rivera, it's about being more than just being skilled.
"The talent is there so we just need to come together as a whole team. Last year we played great games, we beat the team that won nationals, but then we'd have a bad tournament, so it was up and down," Rivera said. "We're trying to figure out how to maintain that high level of consistency."
Most of the club goals for this season revolve around performing well at nationals. Fifth-year senior outside hitter Casey Garces was not hesitant to say the team was looking ahead to the tournament.
"I think we're all looking forward to nationals pretty much," Garces said. "It's the big tournament of the year and pretty much everything that matters is at nationals."
Players also emphasized North's first season as coach as playing a key role in their development as a national contender. Redd believes North's technical knowledge will be vital.
"Chandler comes from a really good background of a lot of good coaching," Redd said. "He's very technical, he knows the technique, he knows how to coach it, we just have to be willing to work with him and trust him."
All these factors culminate in sky-high expectations for this year's team, something that no one on the team is shying away from.
"We got second last year in regionals, so a goal would be to get first, and then nationals. For me, (the goal) would be the semi-finals," Rivera said. "Because there are a lot of good teams, I'm not saying we can't win, but we have to work hard the entire year, not just parts of it."
Garces set his goals even higher than Rivera.
"My main goal is to play in the championship game of nationals," said Garces. "It's frustrating to watch it every year and not play in it, so that's my goal."
Redd is even more optimistic.
"I just want us to play our best volleyball consistently, along with that, when we are going to be at our best, is when we are going to win that national championship," said Redd. "If we're playing at our best, we're not going to lose it."
The road to nationals begins this Friday night with a match at the Al McGuire Center against rival UW-Madison. The match will follow the women's volleyball 7 p.m. match-up with Wichita State.