MU grad makes directing debut with 'Lava'
Hang on for a minute...we're trying to find some more stories you might like.
Jim Ford Murphy developed a fascination with Hawaiian culture as a child. While honeymooning with his wife on the Big Island, he witnessed an active volcano for the first time. This sparked the inspiration behind "Lava," the Pixar short film preceding "Inside Out," which premiered this summer. Murphy graduated from Marquette in 1986 with a degree in journalism and credits his success at Pixar to his college years.
"As a student I was taught how to go out and tell a story," Murphy said. "This translated into my career at Pixar through coming up with and pitching my own ideas."
Murphy worked as an animator for 12 years at Pixar, before becoming the director of creative artists, where he supervises the animation, art and story behind films. However, he took a break from his role to direct "Lava," a seven-minute musical love story featuring Uku, a lonely Hawaiian volcano who sings a song to the ocean each day and wins the heart of Lele, an undersea volcano.
"I was watching 'ER' with my wife when I heard Israel 'Iz' Kamakawiwo's version of 'Somewhere Over the Rainbow,'" Murphy said. "I will never forget how I felt when I first heard that song and thought, 'what if I could write a song that made me feel the same way?'"
Murphy developed the idea into a story and performed the song that plays throughout the film with his ukulele for a panel at Pixar. John Lasseter, the company's chief creative officer, attended the panel and Murphy said Lasseter loved the idea, which isn't surprising because it is well-documented that Lasseter owns 374 Hawaiian shirts. He wears a different one every day.
Creating a story with characters that can't talk was the hardest part, Murphy said. He took on the complicated task of creating personalities for items found in nature.
"It's crazy to go from a little idea and sell the potential of what it can become," Murphy said. "You get to create your own version of an idea and really think of yourself. I really fell in love with the story and collaborating on the little song."
Murphy has Marquette to thank not only for his education, but also for the relationships he formed. He met "Saturday Night Live" icon Chris Farley through the rugby team. The two became best friends and lived together in the big red house on 19th and Kilbourn their junior year, along with 12 other guys.
"Chris was such a funny and clever guy," Murphy said. "The appeal you see in his characters is so endearing. I'm still close with all of my friends from Marquette."
Farley helped Murphy meet his wife Kathy Karas as well. Farley's younger brother, Kevin, was two years behind them in school along with Karas, and brought her to parties his older brother and Murphy attended.
"Kevin introduced me to them and said [to them], 'be nice to her, she's a good one,'" Karas said.
Murphy's passion for animation took off after he created the comic strip "Murphy's Law" for the Marquette Tribune. The outlet allowed him to combine his talents in art and writing.
"I noticed his love of art right away from the comic strips," Karas said. "His desk where he would study was full of doodles and even when we would go out to dinner he would start doodling on a napkin. He was always drawing something."
Murphy had never considered drawing as a career before accepting a job as an art director for Jockey International. During that time he also worked as a freelance illustrator and was eventually hired at Calabash Animation in Chicago.
At Calabash, Murphy learned traditional animation and created drawings for commercials and advertisements. He most notably created the miniature, toga-wearing mascot for Little Caesars Pizza who chants "pizza pizza," to promote their two-for-one deal.
Then Pixar, a new company attempting to make the first all-computer animated feature film, caught Murphy's attention. He sent them a reel of his work and résumé.
Murphy was hired and, believe it or not, turned it down. He couldn't take the risk of moving his family to California for a short-term project that may not have worked in the end. Instead, he accepted a job at computer game company Sierra Entertainment in Seattle.
"The decision really rocked him," Karas said. "We really loved where we were in Seattle, but I could tell the company wasn't giving him the creative freedom Pixar could."
After watching "Toy Story" and feeling devastated that he wasn't a part of it, Murphy spent that Thanksgiving break putting his résumé and reel back together and resubmitting it to Pixar. He became the first new hire of the year and never looked back.
Murphy's animation credits for Pixar include "Finding Nemo," "Toy Story 2," "Monsters Inc.," "The Incredibles," and "Ratatouille."
The Murphys' oldest son Will is a senior at Marquette studying criminology and law studies in the College of Arts & Sciences and has been with his dad throughout his Pixar career. Murphy's son Jack is a sophomore at University of Michigan, and his daughter Louise is a sophomore in high school back in their hometown of Sonoma, California.
"Growing up, I was able to sneak on a few trips with him and see the development of his work," Will Murphy said. "I was really excited to see him get a bigger role with the company. Kids growing up would always ask about my dad who works for Pixar. It's really cool to see him do something he loves."
Watching the finished product of "Lava" was the most rewarding part of the whole process, Murphy said.
"You get the opportunity to work with incredibly talented people, and then you are so sad when it is over," Murphy said. "It's indescribable being able to sit in an audience and watch them react. Watching your work touch people is the best part."

About the Writer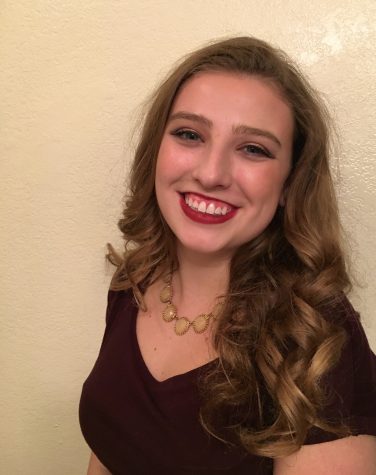 Stephanie Harte, Marquette Journal Editor
Stephanie is a senior majoring in journalism and minoring in digital media. She is from Darien, Illinois and previously served as executive arts and entertainment...