EDITORIAL: Year of transition promises future growth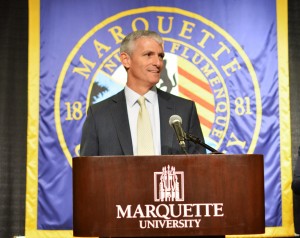 Most fans recognize Marquette men's basketball's 13-19 mark this season as that of a transition year. Head coach Steve Wojciechowski was in his first season, key players transferred and underclassmen were logging more minutes than they ever had before.
While the team had its worst season in more than a decade, it wasn't all bad in the big picture. The program has one of the best recruiting classes in the country entering next season and is returning multiple starters. It was transition. It was a step forward.
That's an easier concept to understand for sports, but it's true for the rest of the university, too. Nearly one full year ago, the Tribune wrote an open letter to then-University President-elect Michael Lovell to be a transparent leader and include student input in moving the university forward. Lovell took over following a year that saw 10 resignations of high-ranking administrators, leaving the university as somewhat of a rudderless ship according to Deadspin. Lovell, and the rest of the university community, was not going to restore positive vibes and fill the voids immediately, but we can say with confidence this year was a step forward.
Following inclusive, transparent searches, positions were permanently filled at provost, Department of Public Safety chief and athletic director. Initiatives to physically expand campus with the purchase of a 7.5-acre tract of land in the 800 block of W. Michigan promised added resources. Partnerships with surrounding businesses and into the Avenues West neighborhood encouraged outreach beyond just 19th and 11th streets. Marquette may have seemingly lacked direction during the 2013-'14 academic year, but now it appears headed on a solid course.
There is still work to be done. Multiple leadership positions remain open, and now another with College of Communication Dean Lori Bergen leaving her post after this semester. An image might need to be repaired after the message sent in the situation with professor of political science John McAdams was somewhat incoherent. And it is unclear what the results of the university's climate study will reveal, but just Monday a protest took place on campus demanding more efforts to increase diversity.
Challenges are ahead, and it should not be surprising if there has been or will be a bump or two. Fortunately, it appears the new administration is prepared to tackle these challenges after a year of laying the groundwork.
A year that saw Marquette's first lay president was automatically defined by transition. Not only was Marquette moving on from a bundle of interims and the sudden departure of former University President the Rev. Scott Pilarz, but it was entering into new leadership it had not seen in its more than 130 years. The 2014-'15 academic year was a step into uncharted territory, but it was what the university needed after lacking direction. In addition to filling leadership voids, a sense of community and transparency was renewed in many ways with Lovell being visible on campus and connecting with the university community.
We will be anxious to see where the university heads in the next several years. But in a year dedicated to transition – both in leadership and consequently in image – we are comfortable with the course. And, thankfully for Lovell, he doesn't have to do battle with the rest of the Big East to prove it.
Leave a Comment